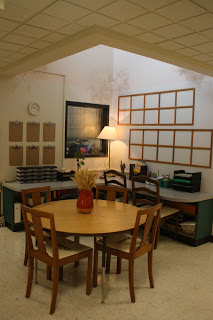 Home and Family Friday
I'm loving the way our beautiful art area is taking shaping outside of my classroom. It's far from done and there is lots of organization needed, but the kids flock to this area every day. It brings me such joy to see kids create, without adults hovering or leading. They look around, find interesting materials, and just create.
The chairs came from Goodwill and garage sales. I covered them with paint drop cloths that were painted with stripes or inspirational words.
Here's the before picture of the space.
The kids could totally make these!
We're ready for our next linky party. I'd love it if you'd grab my button and become a follower.