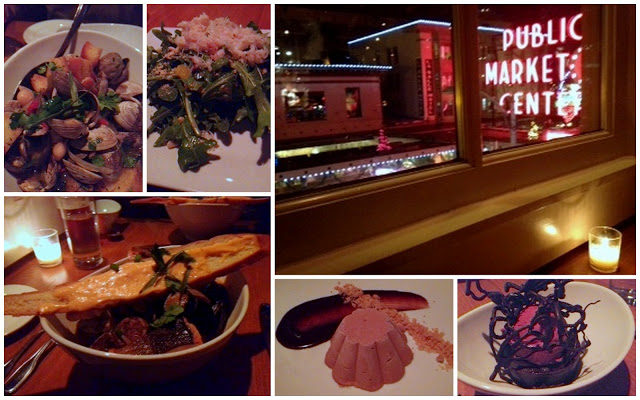 A Nice Surprise
Friday morning I woke up and my hubby said he had a surprise for me.
My friend, Diane, was taking our kids for the night and he had made reservations for dinner downtown. He had also booked a hotel room and told me I needed to pack for a night out!
Wow! For those of you who don't know me (in real life), you should know that a fancy night out usually includes dinner at the local Applebees, the kids tagging along, and if we order the 2 for $20 deal, we'll get a mini dessert too! In addition, I don't go to Seattle. My hubby works downtown, but I don't do the Big City. If I do have to drive down there, I lock the doors and break out the bullet-proof vest. I usually get lost down there, because every time I think I know where I'm going, it turns out to be a one way road. Ugh. I'll stick to small towns and backroads.
Anyway, back to our night out on the town!!!
We checked into our hotel, went to Pike Place Chowder for lunch, and then saw a movie. I can't even remember the last movie I saw that wasn't rated G.
My hubby had made reservations at Matt's In The Market, for a 6pm dinner.
(Side story: When I went to food blogging conference last summer, it was obvious that Matt's was the place to go. All of the foodies were in town and it was all I heard about. Literally, I think I heard people talking about it nonstop for three days straight.) So, as you might be able to guess, Matt's is known for amazing food. We've never eaten there, but have always wanted to you. You see, a good friend from high school is the owner. When my hubby called to make reservations, our friend answered the phone! Bugge (pronounced Buggy) is one of those guys who you can sit and talk to, and it's like time hasn't even passed.
Ok, on to the food…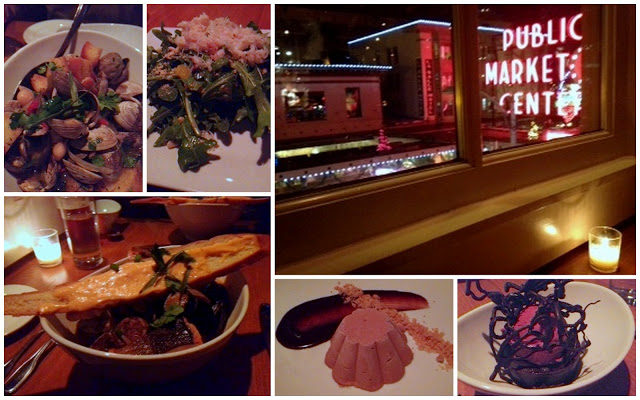 You'll have to excuse the quality of my photos. They don't do the food justice! I took the pictures with my phone, so they're a bit blurry and the color is off. Let me just tell you, this food is amazing!
Best. Food. Ever.
Bugge set us up at the perfect table. We had a view of the market, city lights, water, and new ferris wheel.
We started with steamed clams and crab salad. (Thanks Bugge!) The clams had amazing flavor. I can't even describe it! It had this heat to the broth that was like nothing else I've ever tasted. The crab salad was perfect. I can honestly say, it was the best salad I've ever had. It was light, fresh, and there's nothing better than crab.
The seafood stew was To Die For! It had scallops, mussels, clams, and this salmon that had an intense smokey flavor. I was so glad there was bread served with it because the broth was either the same as, or similar to, the broth that the clams were steamed in. If you're a seafood lover, you know that the best part of seafood is dunking bread in the leftover broth.
Let's talk dessert…. I'm not supposed to have chocolate, but I just couldn't resist.
Oh. My. Goodness.
That chocolate truffle cake, with huckleberry ice cream, and chocolate branches was the best thing I have EVER eaten. My hubby agreed. It was truly amazing!
We don't get out too often, so this was a really nice surprise. The great dinner and staying downtown were just icing on the cake huckleberry ice cream on the chocolate cake!
Surprises always make me happy!