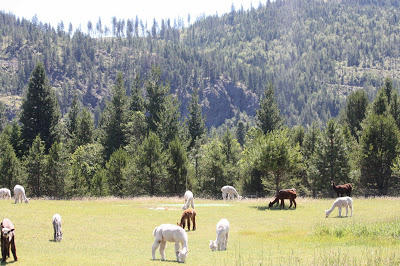 Alpacas
Last week we took a trip to Idaho. We visited Silverwood Theme Park and Boulder Beach Water Park. All I need to say about that is LAZY RIVER AND SUNSHINE.
My brother-in-law had a friend who lived near by, so we went to visit his alpaca farm.
Looking at these little guys makes me want to sell my house and buy a farm.
They ate out of the kids' hands and were actually very friendly.
The owners shear the animals once a year, spin the wool into yarn, and make things to sell in their shop in Post Falls.
Here are a few more pictures I took around their property. It was an amazingly beautiful area! There were wildflowers, a lake with a beaver dam, turtles sunning themselves on the logs, beautiful blue sky, and lush green trees. Amazing beauty.