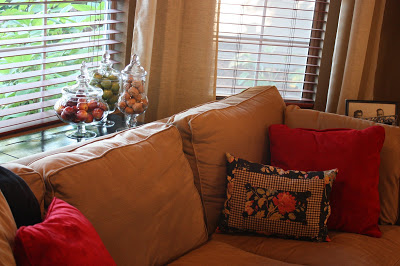 Apothecary Jars
Sitting behind my sofa, on the console table, are jars just waiting to be filled with seasonal goodies. I knew I needed these fabulous jars after seeing Holly's house. We take care of Holly's very large, and not very friendly, kitty when she's out of town. Holly has one of those homes that after you visit, you immediately head home to clean, declutter, and start making a wish list of things you want to buy for your own home. Well, Holly has apothecary jars, so I added those to the wish list.
I bought my jars about a year ago and had wonderful intentions of changing their contents seasonally. I started with Valentine candy and then couldn't think of anything wintery to put in them. They sat empty. By summer I bought pretty rocks and never changed them again. I had every intention of changing them in the fall, but never got around to it. To top it off, the jars get very dusty and just plain dusting doesn't cut it. They really need to be emptied and washed regularly.
Yesterday, I finally went through a few of my fall bins in the garage and found some vase fillers. Apples and nuts seemed like a good choice.
What do you fill your jars with? Do you change them out seasonally? What should I put in them in the winter?
Thanks for the inspiration, Holly!