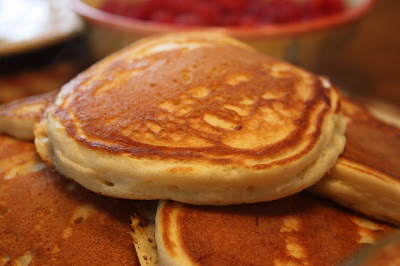 Buttermilk Pancakes- The Whole Ball of Wax
My brother's two kids stayed with us last night. I thought this recipe and story deserved a repost, since we made Nanie and Baumpa's buttermilk pancakes for breakfast this morning. After I told the kids the story of where the recipe came from, my neice said, "They do taste kind of different and special." I'm not sure it's the recipe that makes the pancakes taste so great… I'm going with years of love and family togetherness that make these pancakes special. Enjoy!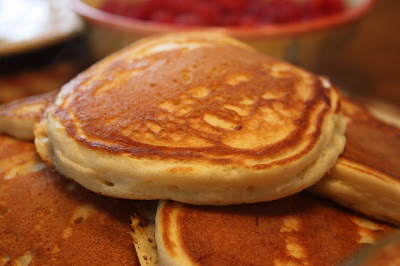 In the early sixties my grandparents bought a small piece of property on a lake. It started with a little cabin and an outhouse, as a weekend getaway. Through the years they added on to the little cabin (even adding a bathroom) and before long it was their home. Nanie and Baumpa (as well called them) lived on the lake for most of the years I remember.
Most family parties were held at the lake. They built a home big enough to have the entire family sit together at the dinner table, and enough space for after dinner seating in the living room. Some of my best memories are of family parties at the lake.
One truly special day at the lake was Opening Day of Fishing Season. Once upon a time the lake was stocked with fish each year. Shortly after, fishing season would open. We'd all head to Nanie and Baumpa's the night before it opened for a big sleepover. By that time they had a two bedroom house, a living room big enough for two families and their sleeping bags, a guest house out back, and a camping trailer. We'd wake up early in the morning and head out for a little fishing. At around 7am, when we heard the bell ring, we knew it was ready… the whole ball of wax.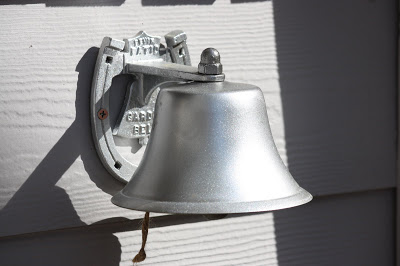 (The same bell is now at my house.)
We'd have sausage, bacon, french toast, eggs, and the best buttermilk pancakes you could imagine. Baumpa called it "the whole ball of wax" and the name stuck.
Reading a blog last week (I wish I could remember which one), the memories came flooding back. The Blogger wrote about Grandma's pancake recipe. Thinking about the ball of wax brought back so many good memories for me and I started telling opening day fishing stories to my kids. It's funny how, when I tell them stories about when I was little, they really seem to listen and imagine what I was like.
Nanie is now 92 and living in an assisted living home. Along with so many wonderful memories, I also hold her recipes. Many, many years ago she scratched down a recipe for buttermilk pancakes on a piece of scrap paper and delighted us with this recipe for many years to follow. (By the way, I know her recipe says Tablespoon and the recipe I typed below says teaspoon. She also had a typed version of the recipe. We've tried it both ways and we all agree that the version with teaspoon works best.)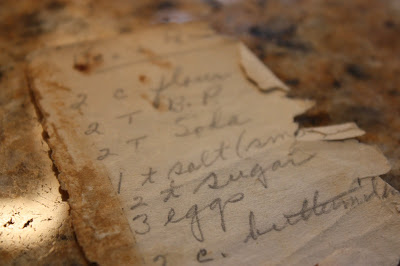 I made Nanie's special buttermilk pancakes with my kids yesterday.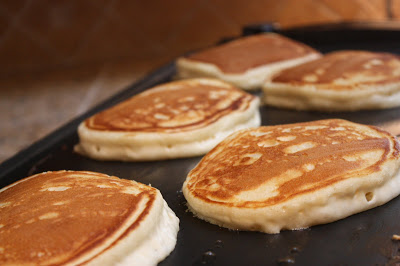 As we were eating them, my son said, "Wow! These really are the best pancakes I've ever had. They are SO good!" That's a pretty good compliment, coming from a nine year old boy. My daughter was super impressed with the fluffiness of the pancakes. Me? I was thrilled to share some wonderful memories with my family and delighted that the pancakes were just as good as I remembered. So, this one's for Nanie. I hope you enjoy the recipe as much as I do.
Nanie's Buttermilk Pancakes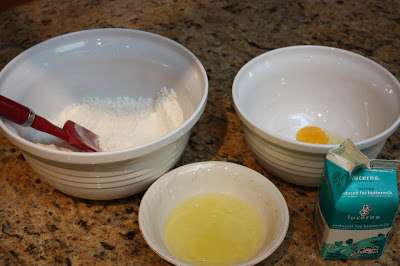 2 Cups Flour
2 tsp baking soda
2 tsp baking powder
2 Tbsp sugar
1 tsp salt
3 eggs
2 Cups buttermilk
Combine egg yolks in buttermilk. Add remaining ingredients, except egg whites. Beat egg whites until stiff.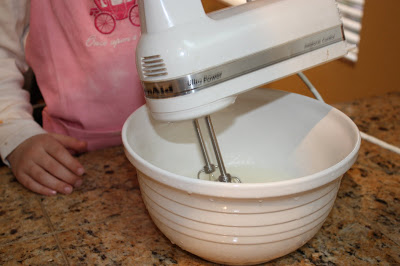 Fold egg whites into the mixture.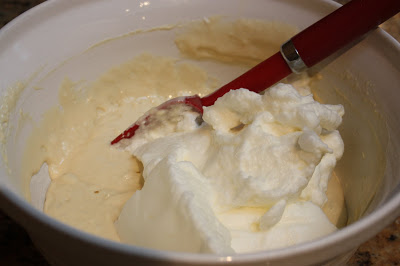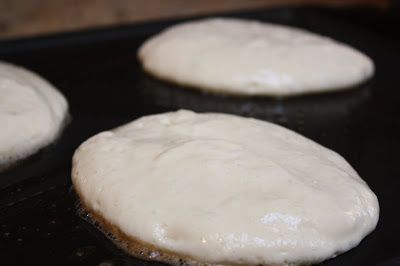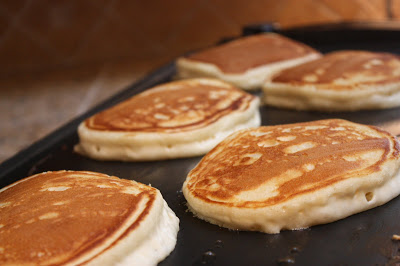 Here are a few linky parties I'm joining!