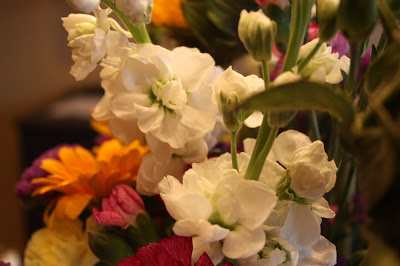 Colorful Favorites from Easter
We had a very different Easter this year. Our family gatherings usually include at least 14 adults and 8 kids. It makes for quite a bustling party each month. This time, many of our family members couldn't make it, for one reason or another. With only 12 people for brunch, it was quiet at times, which NEVER happens at a family party. There were also times of sadness, over the sudden death of a friend. During brunch my daughter told us, "This isn't much of a party." This really reminded me that it doesn't matter how beautiful the table is. No one cares about the beautiful bouquet of flowers or how clean my house is. Our parties are all about the feelings that home and family bring. We enjoy being together and celebrating. Not all families are as close as we are, and I need to stop and be thankful for this. Easter was different this year and it reminded me to appreciate my wonderful family.
I took a few pictures before the party. My kids enjoyed helping with a few colorful creations.
My daughter picked out the flower bouquet from Costco. It didn't match my tablescape at all, but she loved the pinks and purples.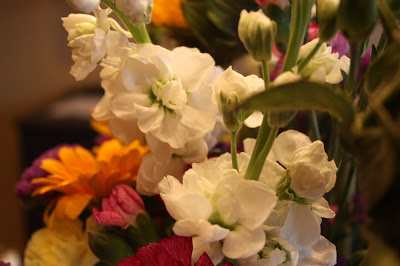 The fruit skewers have been a recent favorite. My kids will eat anything if it comes on a toothpick. We bought big skewers at the grocery store and a tray of precut fruit from Costco. They love to help make the rainbow fruit skewers.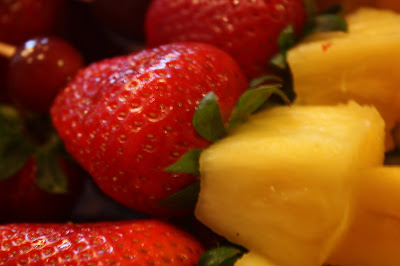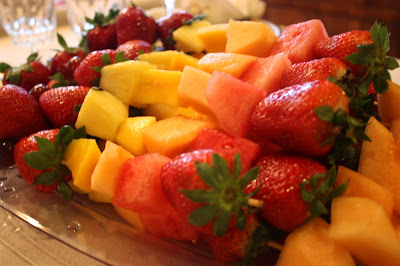 The eggs didn't turn out as brilliantly colored as I had planned. Brown Easter eggs??? Oh well, the kids had fun mixing colors to see what would happen.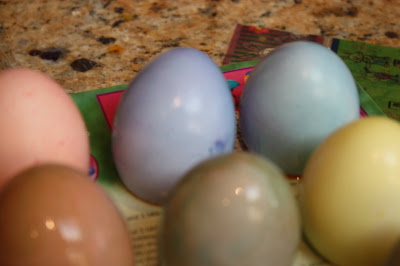 Again, the bunny napkin rings didn't really match with my red, yellow, and blue tablesetting, but how can you argue with a 5 year old who loves the bunny napkin rings. After all, it was Easter.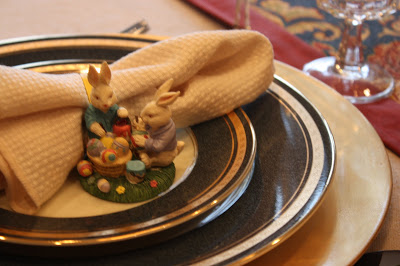 I hope you had a great Easter!