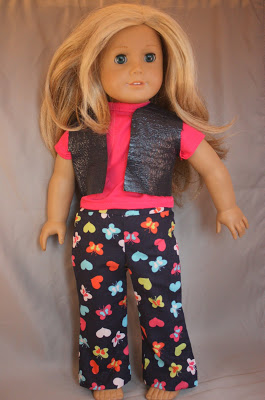 Handmade American Girl Doll Clothes
My niece has a birthday coming soon. This year, she wanted some clothes for her American Girl Doll. Have you seen the prices for those outfits? $30 for one outfit? Seriously? My mom decided that she could make a few outfits. She went to the fabric store and found a pattern for doll clothes. Then she got busy sewing.
She calls this the Marsha Brady look, with the retro pants.
Here's her evening gown.
Check out the beading!
I love this little outfit.
Do you see all of those little beads? Yes, she sewed each one by hand.
Look at the little ruffles on the skirt and shirt. Too cute!
At the end of the day, every girl needs jammies and a bathrobe.
I didn't play with dolls too much as a kid, but my daughter and I had a great time with our American Girl photoshoot. Brooklyn (that's the doll) was totally workin' the runway!
Happy sewing!