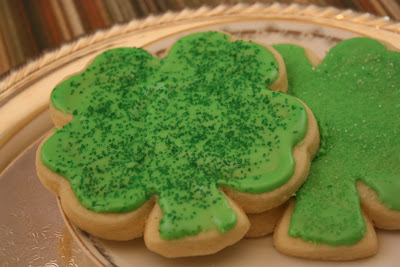 Happy St. Patrick's Day – My Favorite Sugar Cookies
Happy St. Patrick's Day!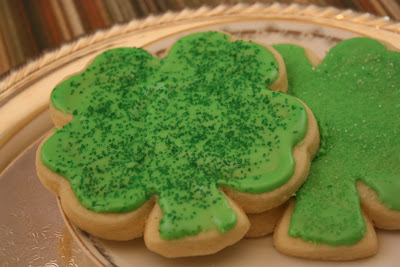 Here's a repost of my sugar cookie recipe, if you're looking for a yummy St. Patrick's Day treat.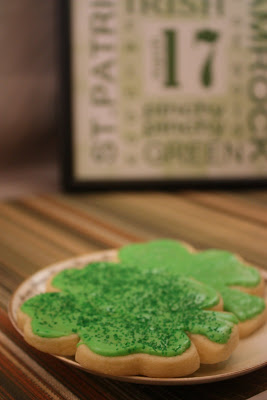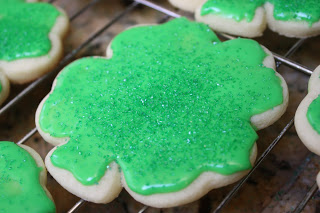 My kids and I spent the afternoon making one of our favorite cookies…frosted sugar cookies. I make these cookies for most holidays, to share at our volunteer tea at school, to take to Seaside, and simple snowflakes to give as gifts at Christmas. Here's the recipe: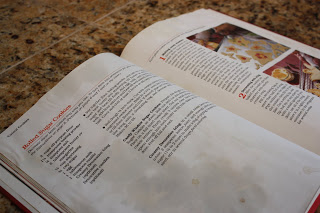 Just kidding. Here's the real recipe:
2 Cups Flour
1 1/2 tsp baking powder
1/4 tsp salt
6 TBSP butter
1/3 Cup shortening
3/4 Cup sugar
1 egg
1 TBSP milk
1 tsp vanilla
Recipe from Better Homes and Gardens Cookies for Christmas
Beat butter and shortening until fluffy. Add egg, milk, and vanilla. Beat well. Add dry ingredients. Beat until well mixed. (I usually make a triple batch. They freeze well.)
The dough needs to be refrigerated for about 3 hours to make it easier to handle.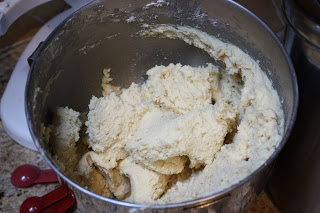 I like a thick sugar cookie. That way they are soft, rather than crispy. I roll them to 1/4 inch thick. Cut with cookie cutters. Bake at 375 for seven minutes.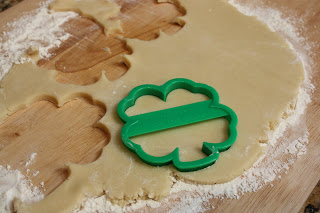 I frost my cookies with a simple powdered sugar and milk frosting. I don't ever use a recipe. I just pour in a little powdered sugar and a little milk until I get a consistency I like. The Wilton food coloring paste is the only way to go. You can buy it at Michael's. It gives a much more vivid color than regular food coloring. Stir it up until the color is well blended.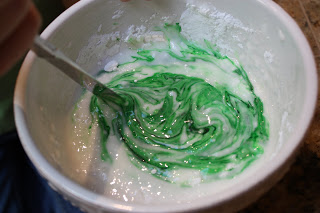 I love to frost my cookies and then use a little sanding sugar from William Sonoma. Oh, they're just so pretty. It's a tradition my kids love and it makes the house smell great too.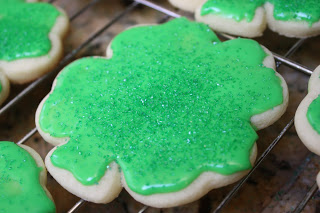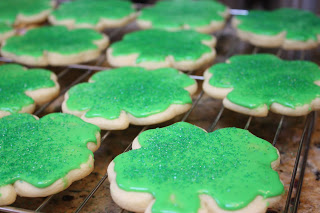 Happy St. Patrick's Day!