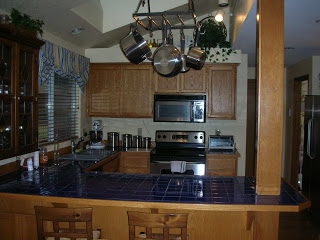 I just couldn't embrace the blue!
Wow! Have you ever seen a more true "color crayon blue" than in my old kitchen?
This is what our kitchen looked like when we moved in, about five years ago. The tile in the kitchen was almost a deal breaker. My sister kept reminding me, "It's only the cosmetic things you don't like. You can always change those things." The kitchen felt very dark and dreary. I was truly afraid of what might be hiding in the black grout, in between the color crayon blue tiles. I remember the first day I moved in. My sister and nieces came riding their bikes down the street and there was a beautiful bouquet of deep, dark, blue hydrangeas in one of the baskets on the bike. They told me I should try to "embrace the blue."
Curtains! That's what I needed to help me embrace the blue. I started thinking about blue and yellow, stripes, ticking, french country. I could totally embrace the blue! This would be fine! You can see the lovely fabric I chose in the pictures above. It was exactly the french country look I was going for. I added a little yellow check to the room and I could ALMOST live with it.
We lived with the blue on the counters for about a year and then I couldn't stand it anymore. I tried to embrace the blue and do a little french country theme. No such luck. I started shopping for new counters. Of course, a big granite slab would have been my first choice, but that's just not in the budget for this part time kindergarten teacher. We found some great ceramic tile. We brought home several samples and looked at them for weeks. Months. Returned them. Looked at more samples for weeks. Months. I didn't even know where to begin! I didn't have a vision or any sort of inspiration.
This whole kitchen experience happened PBS (pre blog stalking). Not knowing there was a world of obsessed blogging decorators, the only way I knew how to get my online design fix was to realestalk. That's the term for a person (me) who checks out the real estate websites multiple times during the day, just to see pictures of how people decorate, stage for buyers, and update their homes. I was just about stopped in my tracks the day I saw a house identical to ours, recently remodeled, and it had the perfect kitchen! It was the first time I could visualize what I wanted my kitchen to look like, because I was actually looking at "my" kitchen online. It was so amazing! That very day I called the listing agent, contacted the previous owner, and found the name of person who installed their granite tile. By the weekend I was at Home Depot, finding almost identical granite tile on CLEARANCE (woo hoo). Monday morning the tile guys came and it was like my Fairy Godmother had waved her magic wand. Months of thinking about what we wanted came to a quick end, just because we finally had inspiration.
I have found, over the past few years, that I am not the most artistic person. Inspiration doesn't just strike me, like it does with some people. I spend hours reading home improvement books, looking through magazines, checking out my favorite blogs, and looking through catalogs for new ideas – inspiration. Creativity does not come naturally to me, but I keep working at it.
I'm linking this to Metamorphasis Monday at Between Naps on the Porch.