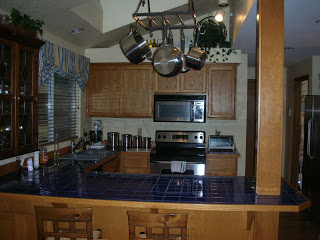 The Kitchen – A Constant Work in Progress
My kitchen has been a work in progress since the day we moved in.
Wow! Have you ever seen a more true "color crayon blue" than in my old kitchen?
This is what our kitchen looked like when we moved in, about five years ago. The tile in the kitchen was almost a deal breaker. My sister kept reminding me, "It's only the cosmetic things you don't like. You can always change those things." The kitchen felt very dark and dreary. I was truly afraid of what might be hiding in the black grout, in between the color crayon blue tiles. I remember the first day I moved in. My sister and nieces came riding their bikes down the street and there was a beautiful bouquet of deep, dark, blue hydrangeas in one of the baskets on the bike. They told me I should try to "embrace the blue."
Curtains! That's what I needed to help me embrace the blue. I started thinking about blue and yellow, stripes, ticking, french country. I could totally embrace the blue! This would be fine! You can see the lovely fabric I chose in the pictures above. It was exactly the french country look I was going for. I added a little yellow check to the room and I could ALMOST live with it.
We lived with the blue on the counters for about a year and then I couldn't stand it anymore. I tried to embrace the blue and do a little french country theme. No such luck.
That's a kitchen I can live with, but still don't love. I've been throwing around ideas for simple changes I can make to our kitchen to make it more our style. My husband does like the idea of painting the cabinets. So, the plan is to put a darker stain on the cabinets, spray the hinges black, and freshen up the five year old valances. I loved toile at one time, but now I'm needing a change.
Always a work in progress, the new new new kitchen inspiration: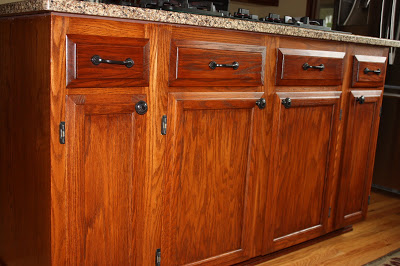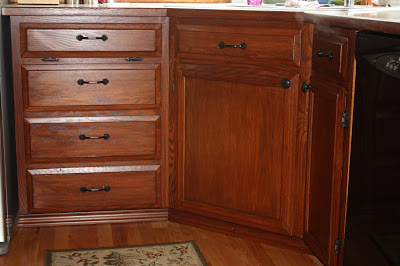 These are my neighbor's ugly-orange-cabinets-turned-deep-dark-brown-beauties. My hubby and I are in the process of refinishing our cabinets. We have two banks done so far and they look a lot like these!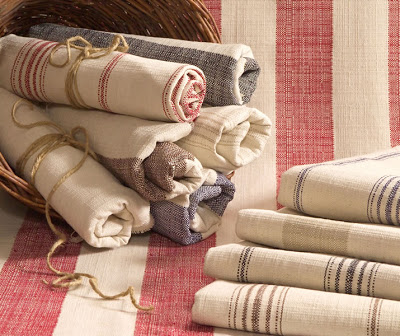 I purchased this fabric about a year ago at Calico. I fell in love with the French Stripe line. I have thin red stripes for kitchen valances and thick red strips for pillows. I'm thinking it'll be a summer look. I might need something different for fall and winter. I'm thinking new paint color too. Something neutral. Like I said, it's a work in progress.