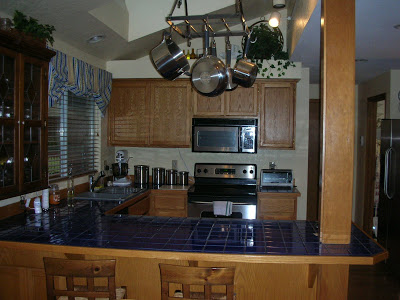 The Kitchen Saga
My kitchen seems to be a never ending story. You might remember how I tried to embrace the blue kitchen.
Yep, this is some seriously blue tile.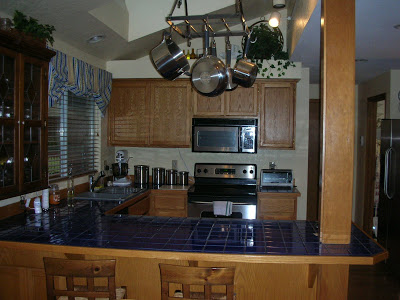 After doing a little cosmetic work, I was so much happier with this.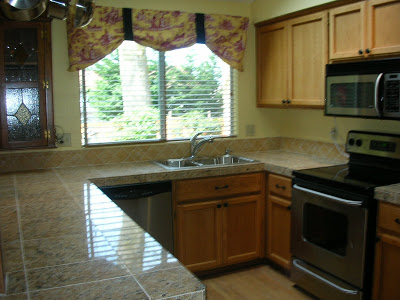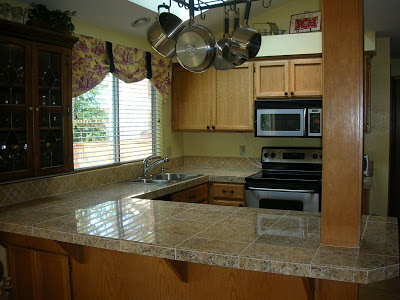 I have a perfectly fine kitchen now. I'm happy with the counters. We have a new sink and faucet, new-ish appliances, fresh paint, new hardware, and I love my toile curtains. Then Layla went and did this.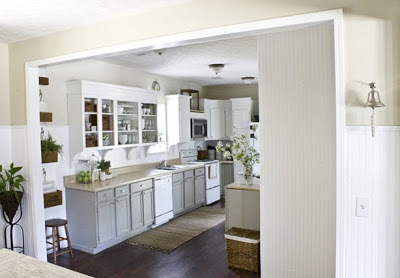 I loved her first kitchen facelift! She started with 80's orange oak cabinets and did an amazing job painting the cabinets black. It was beautiful. Layla recently posted about small changes that really make your house "yours".
Layla got me thinking. Maybe a more drastic change is in order for my kitchen! I can't afford cabinet refacing quite yet, but I can afford paint! That got me thinking about my friend Diane's kitchen.
Before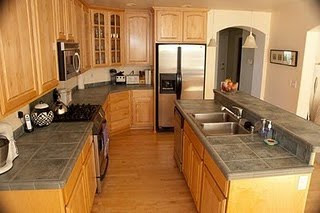 After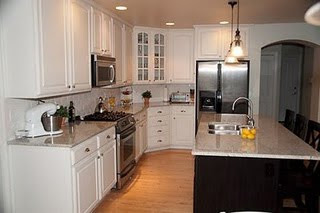 Both of these kitchens are amazing!
So, here's my dilemma. We are having our orange oak floors refinished. I would love to go with a rich dark chocolate color, but I'm afraid of scratches with the dog. A medium brown color has been recommended and I'd like to go with that. While we're at it, we are planning to have new, wider, baseboards installed, stained to match the floor. Medium brown floors, new baseboards, and orange oak cabinets… see the problem? It's so much wood and the tones just don't go. Plus, I don't really want to change out the baseboards to white (or paint them white) because I just really like the wood.
If I paint the cabinets a cream or taupe color, it might look like this: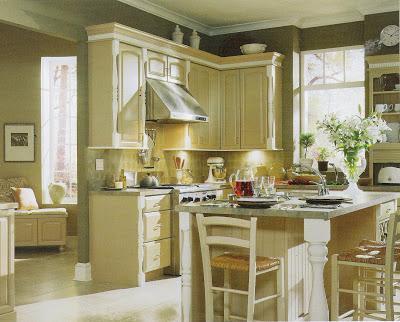 A kitchen like this, with light brown wood floors and light brown baseboards would be beautiful!
I also love this: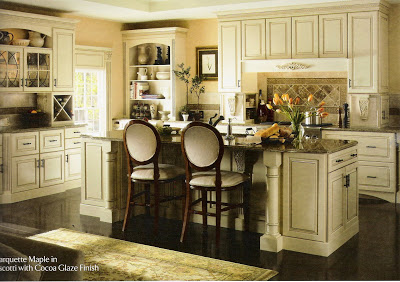 I woke up this morning and told my husband that I couldn't sleep because I couldn't stop thinking about paint samples. When I told him that I wanted to paint the kitchen cabinets, he told me to go back to sleep. I'm hoping I can convince him to read this and maybe he'll see the light.
I'd love my kitchen to look more like Layla's.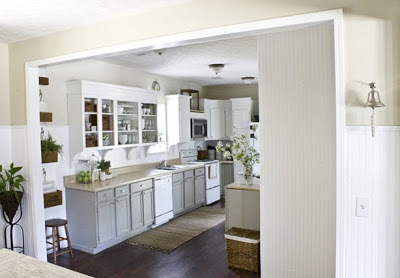 So, what do you think? What would you do?