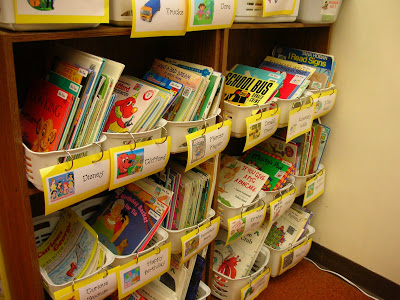 My Classroom Library
Teachers have lots of books. We have curriculum and instruction books, idea books, age appropriate kid books, books which are not age appropriate but we can't possibly get rid of (what if we move grade levels), and books that we just plain love. (How'd ya like that for a run on sentence?)
Here's the problem. Say I want to do a lesson on creating mental images using poetry with my kindergarteners. As I said, teachers have a lot of books. It could possibly take my whole 30 minute planning period to find that book. Three years ago I moved to a new school and a new grade level. Kindergarten became my new home. For the last three years I've been learning to organize like a kindergarten teacher. Now, I can find most books in about 10 seconds.
The books the kids access every day are in little labeled bins. Each book has a sticker that matches the labels on the bin. That way my sweet little five year old know how to put their own materials away.
Here are my "teacher books", organized by curriculum topic.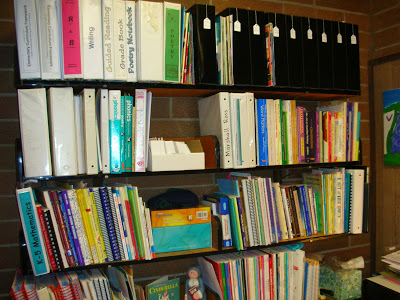 Those little black magazine file boxes are how I can keep so many books organized by author, genre, theme, or month of use. It was such an easy storage idea, that I kept going.
I love to have the books in my classroom organized. I wish I had the space to organize the books in my house this way!