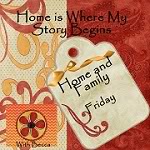 My First Linky Party!!!
It's my first time hosting a linky party, so I really hope this works and that a few people play with us today!
It's Home and Family Friday!
Oh, no!!!! Somehow I deleted all of the wonderful links from last week. Now all of this week's posts are turning up on last week's post. I don't know what I did, but I'm so sorry, frieds!!!