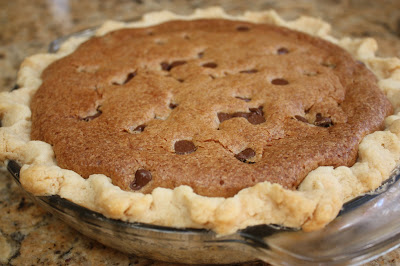 Nestle Toll House Pie
All I really need to say here is, "Yum." Well, maybe you'd like the recipe too. I think the pictures and the title speak for themselves. The recipe is from cooks.com.
2 eggs
1/2 c. all purpose flour
1/2 c. sugar
1/2 c. brown sugar, firmly packed
1 c. butter, melted and cooled to room temperature
1 (6 oz.) pkg. (1 c.) Nestle Toll House semi sweet chocolate morsels
1 c. chopped walnuts (I left these out.)
1 (9 inch) unbaked pie shell
Whipped cream or ice cream (optional)
Preheat oven to 325 degrees F. In large bowl, beat eggs until foamy; add flour, sugar and brown sugar; beat until well blended. Blend in melted butter. Stir in Nestle Toll House semi sweet chocolate morsels and walnuts. Pour into pie shell. Bake at 325 degrees F. Time: 1 hour. Remove from oven. Serve warm with whipped cream or ice cream. Makes: one 9 inch pie.
Recipe may be doubled. Bake two pies, freeze one for later use.
Here's a little tip. Notice how the chocolate chips sink to the bottom? After the pie is about half done, add a few more chocolate chips to the top.
This makes a pretty top to the pie.
Happy baking!