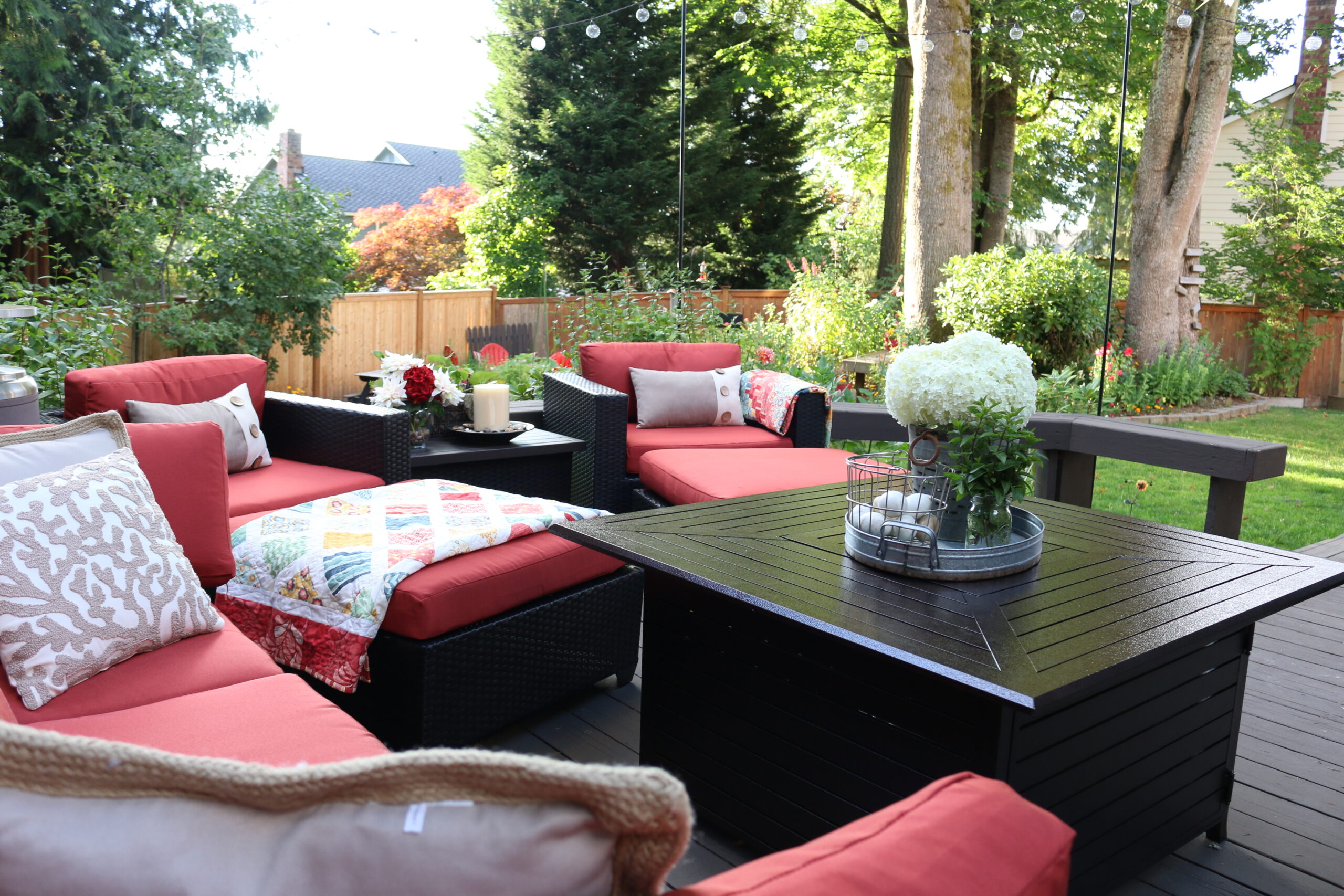 New Outdoor Furniture
I have some new outdoor furniture on the deck and I'm loving it!
We had a set of outdoor furniture that I really loved, but we've had it for 9 years and it was beginning to show signs of many parties, a fire pit that was too close to the chairs, and too much lounging on warm summer days.  The cushions had seen better days.  I started shopping for outdoor fabric, assuming that I would recover everything.  Once I started adding up the cost of outdoor fabric and the foam I needed to replace, I started thinking that it would be cheaper to just buy new cushions.  Ummm…. Have you ever looked at the cost of new outdoor cushions? Oh. My. Goodness.  It was going to be almost $600 to replace just the cushions and they weren't even a perfect fit.  I was going to have to do some reconstruction.  The fabric and foam was nearly the same cost, so it was looking like that wasn't going to happen either.
At that point my hubby and I started shopping for a new outdoor set altogether.  We checked around in a few stores, but everything was getting sold out.  Hello, it was only the end of June so, of course, it was time for the stores to start bringing out Christmas decorations.  We ended up finding our new set on Wayfair.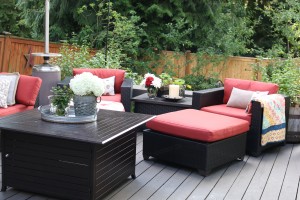 It had a couch, two chairs, two huge ottomans, and a side table.  We found the fire table on Amazon. I added a few quilts to cozy it up and bought some outdoor pillows, on clearance, from Pier 1 Imports.  I am in love with our outdoor space.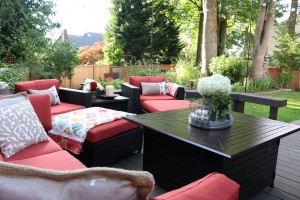 Our old furniture is still on the deck and I'm kind of hoping to keep it for times when we have bigger parties.  I just pushed it off to the side, hoping my hubby is just ignoring the fact that I'm hoarding furniture.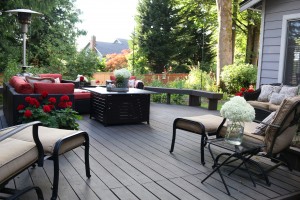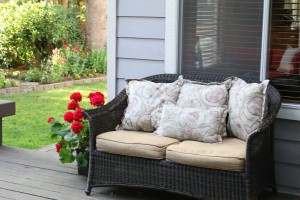 I had a little table on the deck, but it was really out of place.  I moved that to the corner and put a bunch of herbs on it.  It's the perfect mini kitchen garden.
It's also a great place to display my new treasures that we dug up while on vacation in Central Oregon.  (I'm kind of a rock-nerd.)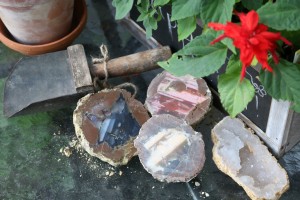 I'm loving my view from the deck.  The flowers are blooming and it's a perfect place to sit and relax.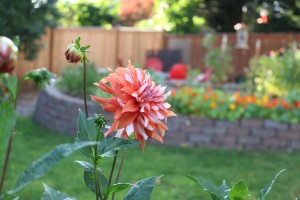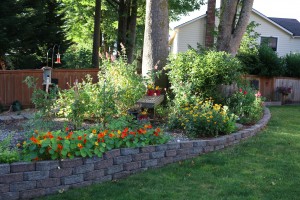 Another little perk to having new furniture is that I have a great little table for the lower area of our backyard.  This is the old firepit.
I guess I'm proof that Wayfair has just what I need.  I'm sure you can guess that shipping was free! (Sorry to put the song from the commercial into your brain!)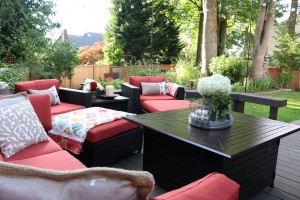 Happy decorating!