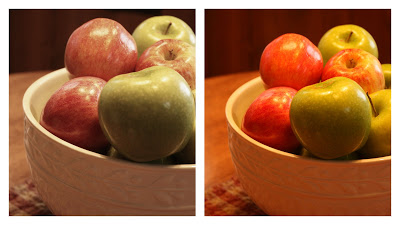 Photoshop – Using an Artist's Eye
Ok, friends. I have learned so much about my camera since last spring. Now I need to learn about Photoshop, but there is one part of photoshop that I'm not sure I can actually learn. Can you learn to see photos with an artist's eye? I play around with my photos and I don't know which actually looks better.
Take my apple pics, for example. The photo on the right was taken on a sunny day, with the flash turned off. I felt like the picture was a little yellow. So I played with coloring a little in Photoshop. I came up with the photo on the left, but then I didn't know if it was better. It kind of looks washed out to me. What do you think? Do you use Photoshop? How do you tell if something actually looks better or worse? Sometimes I think I over-do things when I'm playing around with the tools in Photoshop.