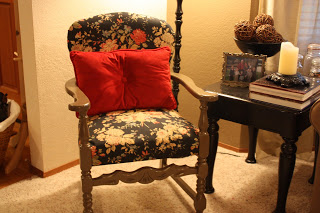 Pulling the Room Together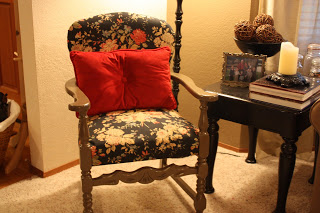 Yesterday I wrote about the chair that started my OCD in decorating. The ladies at Calico Corners, brilliantly helped me choose fabrics that coordinate. I love the look of several different patterns of fabrics in one room, but just don't know how to pull it together so it looks cohesive. Thank goodness for the experts.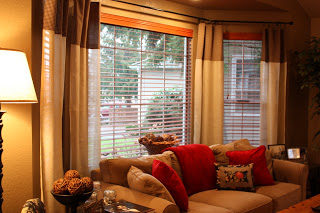 Then we moved onto toss pillows and drapes. I didn't need the drapes to be functional. Candice Olson suggests dummy panels, so that's what I did. I saw the idea for a print on top and linen on the bottom on the Thrifty Decor Chick blog as well as the Calico Corners catalog. The panels were from Lowes. I really love the way they turned out. They don't block any of the light but they add the texture and warmth that I really wanted. I had never painted a room a light color. But I think the linen color walls and the dark accent wall work well in the room.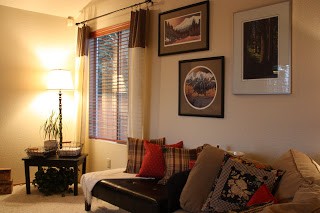 More pillows… made with scraps of fabric, left over from other living room projects and buttons from Grandma's collection. I also reused old pillows, so I wouldn't have to buy new pillow forms.
Finally, this is not my finished focal point of the room. But, it will do for now. I bought the window frame at a garage sale for $5.00. I saw the idea for backing it with fabric and hanging a wreath on the Happy Homebody blog. It was just what I was looking for. This area is lacking color, but it's a work in progress. The bird cage was a Ross find that I spray painted.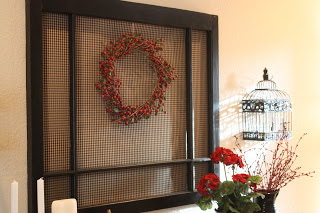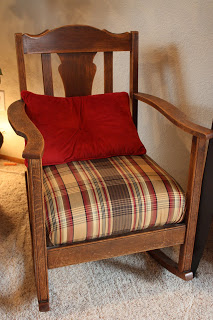 Grandma's old rocking chair got a facelift too.
So, here's the run down on the living room makeover:
*Design consultation from the experts at Calico Corner – free!
*Purchased three new fabrics; large plaid, black floral, small black and cream check.
*Used the fabric to recover chair rescued from friend's garage, recover grandma's rocker, recover lots and lots of pillows.
*Painted one dark accent wall and chair the same color dark mossy green.
*Painted the rest of the room linen.
*Made custom drapes out of Lowes panels.
*Spray painted old picture frames black, so they would all be cohesive.
*Painted all mix-match hand-me-down furniture with black semi-gloss.
*Sold all of the fancy, "NO YOU CAN'T PLAY IN THAT ROOM!" stuff on Craigslist and used the money to buy lamps and a cheap ottoman at Target.
*The result… a cozy room, that looks purposeful and cohesive, in which my children are allowed to play, that cost next to nothing.