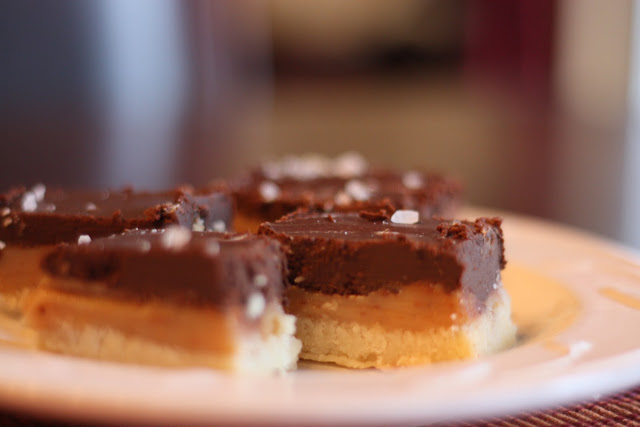 Salted Caramel Heaven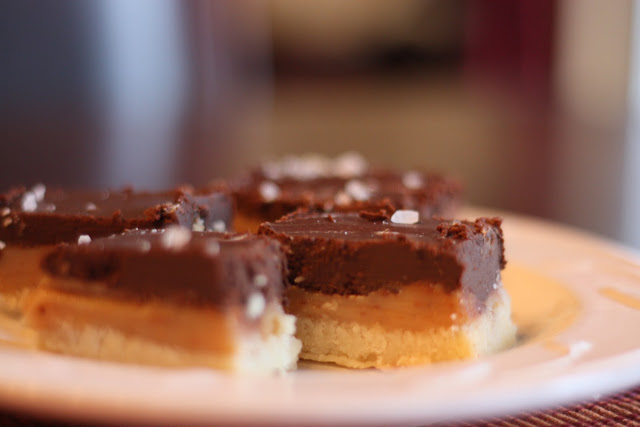 The other day, I started pinning different salted caramel recipes on Pinterest.
Click here
to see my Pinterest board. I was asked to make a dessert for the school auction, and thought salted caramel something might be good. The shortbread salted caramel bars sounded really yummy, so I decided to try them out this week. The verdict? As one of my coworkers says, "O.M.G."
The recipe originally comes from
Annie's Eats
. I made a few changes in my own version, but I'll walk you through it.
Ingredients
For the shortbread layer:
2 cups all-purpose flour
2 tsp. baking powder
¼ tsp. salt
1 cup (2 sticks) unsalted butter, at room temperature
½ cup sugar
***I also added a 1/4 cup of water to the mixture because mine was a little too dry.***
For the caramel layer:
1 cup (2 sticks) unsalted butter, cut into pieces
1 cup sugar
***I also added 1/4 cup of brown sugar because I like a darker caramel.***
4 tbsp. light corn syrup
2 (14 oz.) cans sweetened condensed milk
For the chocolate layer:
8 oz. semisweet or bittersweet chocolate, finely chopped
***I used the whole bag of chocolate chips, because there's no such thing as too much chocolate.***
1 tsp. light corn syrup
½ cup (1 stick) unsalted butter, cut into pieces
***I didn't use a full stick, just because it's a lot of butter. I cut it down to 6Tbsps. Whew! Think of all of those calories I just saved!***
Sea salt, for sprinkling
Directions
To make the shortbread layer, preheat the oven to 325° F. In a small bowl combine the flour, baking powder and salt. Stir with a fork to blend, and set aside. In the bowl of an electric mixer, beat the butter and sugar on medium speed until well blended, about 1-2 minutes. With the mixer on low speed blend in the dry ingredients just until incorporated. ***Add water if you do my version.***Transfer the dough to the prepared baking pan and press in an even layer over the bottom of the pan. Bake 15-18 minutes or until golden. (If the crust puffs up a bit while baking, just gently press it down while it is cooling.)
To make the caramel layer, combine the butter, sugar (***both sugars if you're doing it my way***), corn syrup and condensed milk in a medium saucepan over medium heat. Heat, stirring occasionally, until the butter is melted. Increase the heat to medium-high and bring to a boil. Reduce the heat to maintain a simmer, stirring constantly. Continue simmering and stirring until the mixture turns an amber color and thickens slightly. Pour the mixture over the shortbread layer, smooth the top, and allow to cool completely and set. I refrigerated it for about 30 minutes.
To make the chocolate glaze, combine the chocolate, corn syrup, and butter in a heatproof bowl set over a pan of simmering water. Heat, stirring occasionally, until the chocolate is completely melted and the mixture is smooth. Pour evenly over the caramel layer and use an offset spatula to smooth the top. Allow to cool for a minute or two and then sprinkle with sea salt. Chill, covered, until ready to slice and serve.
Ya know how brownies never seem to cut smoothly and always look messy when you take them out of the pan? Not these! These are SO pretty. I cut them into rectangles, packaged them in little bags, and sent them off as gifts. I wish I would have taken a picture, but life gets busy. No worries. There will definitely been another pan of these soon! I haven't decided if this is THE dessert for the auction yet, but we're all enjoying the taste test!
Happy baking!