Shoe Storage and Home and Family Friday
Earlier this week I showed you the before and after of my shoe rack collapse. I was feeling so good about my closet.
All of my spring shoes are in their little cubbies. Bulky Danskos have found a home on the new shoe rack.
Then my Ballard Designs catalog came. Their shoe organization puts my little cubbies to shame! (Note to hubby: THIS is what I want for Mother's Day. If I could just have this one little shoe rack, I'd be happy forever.)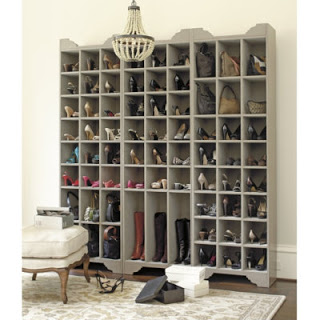 Do you hear the angels singing?
I can tell you that I'm 100% sure I won't be getting this for Mother's Day, but I can dream.
We're ready for Home and Family Friday. Link up your projects. We love to see recipes, sewing projects, crafts, home decor, or things you've done with your family. I'd love it if you'd become and follower and grab my button.