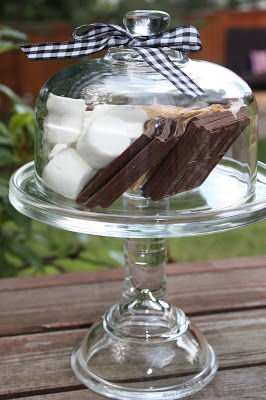 "S'more Me", a New Display, and Home and Family Friday
This was my invitation to my family, that I displayed on the dinner table last night. They happily accepted.
When the marshmallows are ready my kids like to say, "S'more Me!" That's kid-talk for, "Get my marshmallows and chocolate ready! Here I come!"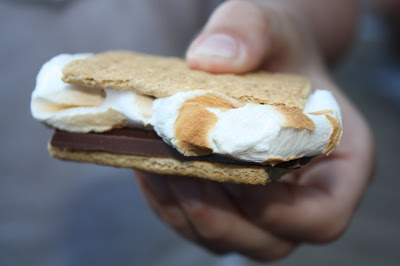 As a teacher, I'm always encouraging my students to think like writers. We push them to find something typical and think, "Hey, I could write about this." Since I've started blogging, I am finding that I'm starting to think like a blogger. Writing isn't my favorite aspect of blogging, but when I see something typical that catches my eye I think, "Hey, that would be a great project to blog about or photograph." The other day I was leaving my eye doctor and spotted a florist/gift shop. In the window were three apothecary jars, each jar filled with a different s'more ingredient. My first thought was, "Oh, I wish I had my camera." It was such a cool display and the jars were absolutely HUGE. My second thought was, "Inspiration strikes in strange places (like leaving the eye doctor). You just have to keep your eyes open and think like a blogger."
I knew I wanted to make something similar, although on a MUCH smaller scale. Shopping at the Goodwill this week, I spotted the top of a cheese dome. You know, those cheese domes that are all over Bloggerville. I think everyone has a totally cute project they have made out of a 70's cheese dome, a candle stick, and a little spray paint. I reallllly wanted to make one of these too because they are so adorable. Well, I could only find the top of the cheese dome. As I was driving home I remembered that I had a small Martha Stewart glass cake stand that might be the perfect size. It was!
I was racking my brain, trying to think of something that I wanted to display in my new treasure. I didn't want to go out and buy anything new and I really didn't have anything terrific to display. Then I remembered the apothecary jars from the day of the eye doctor visit. Oh, I could hardly wait!
Happy Mommy! Happy kids! Happy Ending!
How about you? What have you been up to this week around your home or with your family?
Link up. Leave comments. Grab my button. Have fun!
Just after I posted this I found a cloche linky party.
Here are a few linky parties I like to participate in:
https://homeiswheremystorybegins.net/linky-parties-i-like-to-participate-in/