Snickerdoodle Cookies
It's time for my weekly cookie recipe! Well, at least it seems that way. I do love to bake, but I didn't intend to share a new recipe every week.
A friend at school asked me for my Snickerdoodle recipe a while back and I got busy and forgot to write it down for her. So, here it is… the ultimate soft and cinnamony cookie.
1 Cup Shortening
1 and 1/2 Cups Sugar
2 Eggs
2 and 3/4 Cups Flour
2 tsp Cream of Tartar
1 tsp Soda
1/2 tsp Salt
Cinnamon and Sugar to roll cookies in
Heat oven to 400 degrees. Mix shortening, sugar, and eggs. Add flour, cream of tartar, soda, and salt. Realize that you are out of cream of tartar and begin calling neighbors. They will happily loan you their jar because they know you will bring them warm cookies. Mix all ingredients.
Use a cookie scoop to form a perfect ball. Roll the dough ball in a cinnamon and sugar mixture. I like to roll the whole dough ball in the mixture, including the bottom.

I bake my cookies on a Silpat baking mat. Using a Silpat ensures that my cookies don't stick to the tray. It also ensures that the sugar on the bottom of the cookie does not caramelize.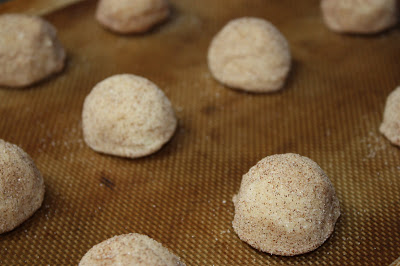 Bake the cookies for 7 minutes, at 400 degrees. I use a standard oven, not convection. When they come out they will be slightly undercooked. They will set as they cool and make the perfect soft cookie.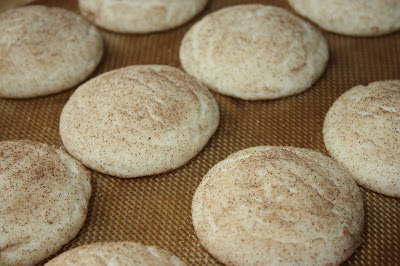 Wrap a few snickerdoodles in a cellophane bag and tie with a pretty bow. These cookies make the perfect gift for the teacher who prints out your sub plans when you're on your death bed or the friends you call "Tech Support" because they can solve any computer issue over the phone. Enjoy, friends!