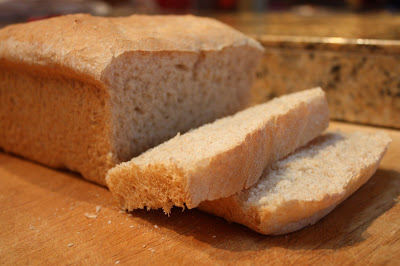 Thanks for Wednesdays, Mom!
Ahhh. It's Wednesday. To most people it means we're half way through the work week. To me, it will always be the day my mom was home. My mom worked at The Bon Marche (later changed to Macy's) for almost 30 years. She was the Pantyhose Princess (working in the hosiery department), the Bag Lady (working in handbags),and Mom (working mom to 3 kids). I honestly don't remember much about my mom's time away from home. She always tells me she has guilt for missing my games, but I don't remember her missing anything. What I remember most is her days AT home. Her days off were Wednesday and Sunday.
Walking in the door on a Wednesday afternoon, I'd immediately smell the homemade bread. She would time it so she'd be pulling it out of the oven just as we got off the bus. We'd devour one loaf as a after school snack and save the other loaf for dinner. (A great accompaniment to a pot roast dinner.)
I really think my love for baking stems from good memories from my childhood. My house was always the place to go. We always had something warm and yummy to eat and everyone was welcomed with open arms.
Earlier this week someone asked for the bread recipe I use.
Here's my mom's recipe:
Dissolve 1 package of yeast in 1/4 cup warm water. Set aside.
Put 2 Cups of warm milk into the bottom of the bread machine.
Add 1 Tbsp of shortening.
Add 6 cups flour (For wheat bread I just substitute some of the white flour for wheat.)
2 Tbsp sugar
2 tsp salt
Add the yeast and water mixture to the top of the dry ingredients. I usually make a little well for the water and yeast to sit in. I can't really tell you why I do this, but I'm sure I read it somewhere and it stuck with me.
I turn my bread machine onto the dough cycle, which does its thing for about an hour and twenty minutes.
I do things a little differently than my mom. I use the same recipe, but I use a bread machine to make the dough. I took this picture on a day I was trying out a box of bread mix for the first time. Usually I don't use bread mix.
I only use the bread machine on the dough cycle. I really don't like the way bread COOKS in a bread machine. It's just not the same as my mom's bread. Once the dough cycle is complete, the bread will have risen for the first time. That's when I divide it into two loaves and let it rise again, until it has doubled in size.
Time and temperature? 350's fine. (My mom bakes everything at 350.) Bake for about 20 minutes.
Happy baking! Thanks for the great memories, Mom!