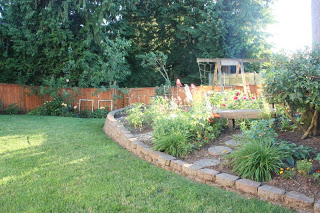 What's Your Garden Style?
What's your garden style? Where do you get your inspiration?
I'm a country/cottage garden kind of girl. I knew what I wanted my yard to look like when I first set foot into Carpooler Michelle's garden. She actually gave me most of my first plants for my garden. Perennials are the way to go!
I don't like formal. I love flowers, but not pink. I want lots of color and it's ok if it looks a little messy some times.
I want a veggie garden mixed in with the flowers.
But, like I said, I want lots of flowers for cutting.
I need places to sit in the sunshine, watch the kids run through the sprinkler, and relax after a day filled with yard work.
My biggest inspiration comes from Country Gardens magazine.
I've subscribed to Country Gardens for years and have saved every issue. I have learned so much from this magazine and always find new inspiration.
Well, I'm off to deadhead a few flowers and pull a few weeds!
Happy gardening!