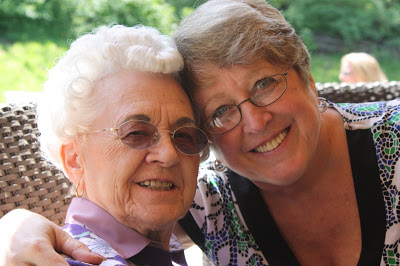 Who Taught You To Cook?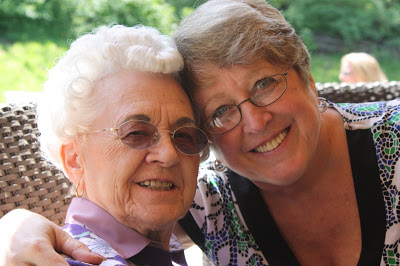 Today, in the lunch room, the teacher talk turned to cooking. One of my teacher friends said she doesn't cook. (Well, she really does cook because she said she had an amazing sounding pot roast in the crock pot for dinner. But, for the most part there's not much cooking at her house.) That got me thinking about how I learned to cook. I've always baked and cooked with my mom and grandma. I guess they were my first teachers.
Family meals always consist of home cooked food at our birthday parties and holidays.
My Grandma always made this jam and cream cheese roll on Christmas.
Homemade buttermilk pancakes were the breakfast choice for opening day of fishing season.
Growing up, chocolate chip cookies and homemade bread were the after school snacks on Wednesdays. (Wednesday was my mom's day off, so there was always something yummy.)
I don't remember ever eating anything from a box when I was younger. Everything was made from scratch. My mom always thought ahead and used her crockpot a lot. Pot roasts and potatoes were usually on the weekly meal plan.
Chicken in the crockpot was usually turned into some sort of casserole. My favorite was the wild rice, chicken, and shrimp casserole. Regardless of whether anyone was home, the house usually smelled good when we walked in the door after school.
My mom and grandma taught me well. I have several "go to" recipes and, like my grandma, I always have a new experiment that I'd like to try. (Nanie's eggplant lasagna and the fish shaped tomato aspic salad didn't quite fuel my desire to try new recipes, but for the most part her recipes were a hit.)
I learned a little more in college. I majored in Family and Consumer Sciences, which required courses on food science, nutrition, and food presentation.
Now, with the outburst of cooking shows, I find Sandra Lee and Ina Garter to be my cooking mentors. (As well as my grandma, mom, and mother in law.) I love watching the cooking channel or food network. I get new recipe ideas and learn tricks and tips I never knew before. Rachel Ray taught me how to dice the perfect onion, a trick I never knew. Sandra Lee taught me to only use the thyme leaves, not the thin stems. Ina Garter encouraged me to use new-to-me vegetables in my dishes.
Who taught you to cook or bake? Was it a family member, classes you took, or the Food Network? Are you self taught or still learning? Where did you learn to prepare food? Food is such an important part of our homes, culture, and family history. Food evokes memories. Some of my best memories are of time when I cooked or baked with my mom and grandma. They taught me skills that would last a lifetime.