Barn Wood Shelves
I'm feeling a bit like Joanna Gaines right now.  You see, a few weeks ago I decided that my hubby and I each needed a work space in the craft room/den.  On days that he worked from home, I would clear off my sewing table and he would use that as his desk.  I've been fine with sharing, but I decided that he really should have his own space.  He was setting his computer on my cutting mat and whenever he reached for a pencil he'd grab one of my fabric/chalk pencils.  It was time to give him a designated office space.  I started by clearing out the book shelves and paper cupboard that were currently in the space.  (My kids were calling me a hoarder through this whole process.  IT'S NOT HOARDING IF IT'S IN LABELED BINS, PEOPLE!)  Once the space was clear, we had room to move a desk and shelves in.  This is the part of the story where I channel my inner Joanna Gaines.
See those shelves there?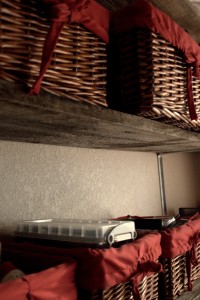 A couple of years ago I saw these pieces of barn wood leaning up against my cousin's barn and started begging to take them home.  They've been in my garage waiting for the perfect project.  Well, the perfect project is this one!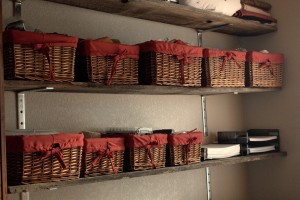 I had three long pieces of barn wood, which we only had to trim a little bit.  I looked for cute brackets but couldn't find anything that I liked.  We ended up using L-brackets that really weren't meant to be shelf brackets.  They were sturdy enough and had kind of an industrial look.
I still need to find a few office-type organizing pieces for the wall between the table and the first shelf.  I was thinking about some sort of  wire wall basket to hold papers, and maybe a few mason jars mounted to the wall to hold pens and pencils.  This space is also pretty dark, so I'll be on the lookout for a lamp for the area.
We found the long skinny table, on sale, at Cost Plus World Market.  I already had all of the baskets.  I wish they still sold them because I could use a few more now.
(Please excuse the blurry pictures.  I'm still trying to figure out why WordPress is making my photos blurry.)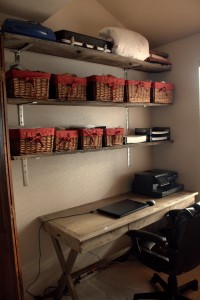 Not bad for some reclaimed barn wood and an inexpensive table, huh?  My hubby likes his new office space.  I kind of think his favorite part might be not having to fight with all of my sewing projects for space.  I was feeling pretty proud of myself for thinking of using these pieces of wood!  I have to admit that it wasn't ALL my idea.  I just asked myself WWJD (What would Joanna do?).  Now, if I could just tear down a few walls, find some rustic light fixtures, and add a few farm animals out back!!
Happy decorating!