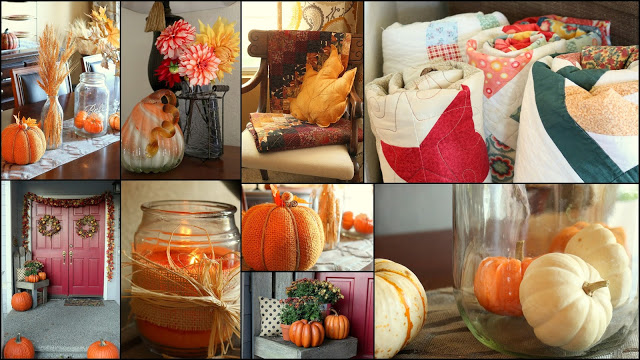 October
Well, hello October! Can someone tell me where September went? As much as I love Summer, I really-really-really love Fall. September and October are kind of a toss up on which is my favorite. September is my birthday month and back to school time, but October is when I really break out the Fall decor, it's my wedding anniversary (20 years on October 6th), and I LOVE being the hot apple cider lady for the trick or treaters.
I've been adding a few Fall touches here and there to the house. I usually bring them out all at once, but it's been feeling a bit rushed this year and the little-by-little approach was all I could handle.
The front porch was the first area to be decked out. Every year I say that I'm going to do something different, and every year the same decorations go up. But I do still think they're pretty.
The pumpkins were the deal of the season! If you have ever shopped for pumpkins, you know that the big pumpkins are pretty pricey. We were at a funeral, in a small town in Eastern Washington, and noticed that the church was selling pumpkins as a fund raiser for $4 each. I didn't have any cash on me, but my mother in law came to the rescue and the kids bought 5 pumpkins! (That just reminded me that I need to pay back the money I borrowed!)
The Fall quilts have made their way out. When I graduated with my Master's Degree in 2000, my friend Christy (a teacher I used to work with) gave me some beautiful Fall fabrics. I love, love, love these fabrics. I didn't know what to do with them so I took them to the fabric shop that she bought them from and asked the quilt shop owner for suggestions. In about 10 seconds flat she had lined up my fabric and written out a quick and easy pattern for me to follow. To this day, this is one of my go-to quilt patterns when I need a quick and simple quilt to give as a gift.
Oh, mini pumpkins, how I love you! I'm a bit addicted to those little guys but they just brighten up any tablescape.
And any burlap pumpkin can join the party too.
I love all of the jars will with leaves, wheat, and pumpkins on the dining room table.
Happy October Friends! Thanks for stopping by!