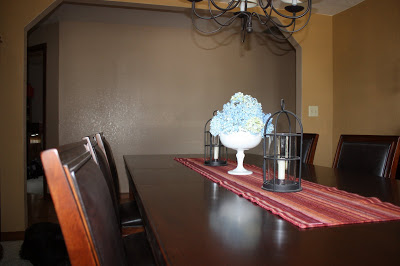 Barnwood Bliss
I've made a design decision that I've been thinking about since the day I moved into my house, 7 years ago. Everyone has at least one wall in their house that they don't know what to do with. My sister calls it The Big Scary Wall. That's exactly what it is. It's a huge wall with nothing on it. It has no architectural features. It's blah and boring. To make matters worse, you have no idea how to decorate it or where to begin.
This is my big scary wall. It's just outside of my dining room.
It is one of the first areas you see when you enter my house.
It's a dark space with nothing exciting to look at. My first thought was to put an entry table there.
Problem: My kids play in the hall all the time. They do puzzles, rollerblade (that was before we refinished the hardwoods), practice cartwheels, and drive remote control cars. A table or buffet would take up too much floor space. My hubby also loves the openness of our hallways and doesn't really have a desire to fill the floor space with furniture.
My second thought was to do a built-in piece, recessed into the wall. I was thinking about a beautiful hutch piece, which would also be a great serving piece for parties. Problem: $$$$$ It's pretty scary to think about how much built-ins, recessed walls, and beautiful crown moulding would cost.
Oooh, then there was the 3 piece set from Ballard Designs. They're kind of pricey, but not as much as built-ins. Problem: Still too much $$$$$ and it would take up too much floor space.
So, here's my new plan. I'm so excited about it that I lost sleep planning how it would look and how I would decorate it.
Isn't this the coolest shelf you've ever seen? It's made from old, rustic, barnwood. I think I may need to make a bathroom door while I'm at it.
Now, if only I knew a farmer who might be able to track down some barnwood for me…
Happy Decorating!