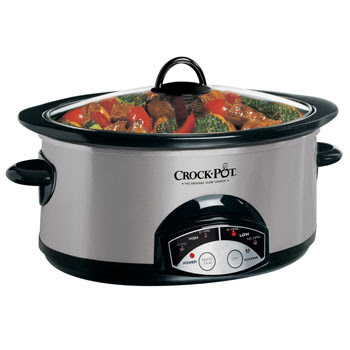 A Working Mom's Best Friend
I've been loving my crock pot lately. As a matter of fact, I don't think I would survive working, laundry, cleaning, gymnastics, football, and homework without it. Planning ahead is key here. It's called a SLOW cooker, friends. If you're not up for dinner prep before work, then just stop reading here. My crock pot is programmable, so I can set it to go for eight hours and then it turns to warm. Isn't technology wonderful?
The crock pot liner is my 2nd BFF. I've been trying to reduce consumables, like Swiffer refills, and disposable mop pads. This is one disposable that I can't possibly give up. My crock pot has always been a huge chore to clean. Not so much after finding this product! It just sits right inside the crock pot and when dinner is over, the mess goes right into the garbage. I still wash out the crock pot, but there is absolutely no scrubbing.
Earlier this week we had crock pot chicken. I put a whole chicken in the crock pot with a little water and garlic salt. Dinner is just about done when we walk in the door. This time I made a batch of quinoa with veggies and threw some of the chicken into the dish. Instant balanced meal! Gotta love that!
Image from Food Network
Then it was pot roast night. We trying to eat less red meat, so this was a treat. A few veggies and water in the bottom of the crock pot, along with a little garlic salt, and voila… dinner is served. I roasted some potatoes when I got home from work and made GRAVY from the leftovers in the crock pot. How's that for a quick fall meal?
Image from Sodahead.
One of my neighbors just posted a picture on Facebook of her crockpot sitting in the front seat of her car. They have 3 kids and spend Tuesday nights at the soccer field FOR THREE HOURS! Ugh! I think she's brilliant for making a pot of clam chowder in her crock pot and bringing dinner to the field. Nice work, Michelle!
Happy Crocking!