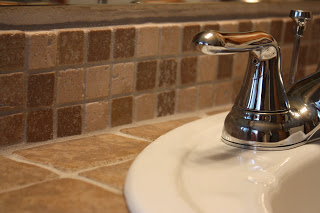 Bathroom Tile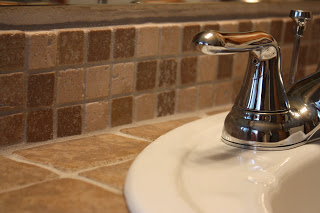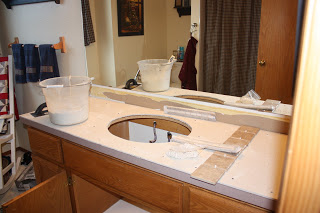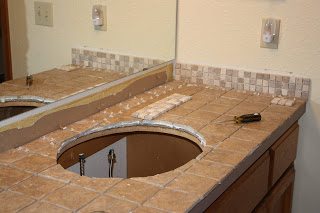 The kids are actually brushing their teeth in their own bathroom again!
Diane and I decided to spend the President's Day holiday working on tile in my bathroom. The kids played happily and we went into, "Look what we can do without our husbands!" mode.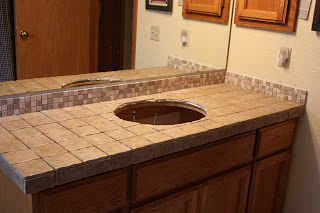 We set up the tile saw outside. It was a cold day, but it was dry. My neighbor, Tammy, came out to see what project I was working on this time. I'm sure I looked great in my safety goggles. Safety first! We started laying out the tile in the bathroom to see what it would look like. You can still see a hint of the lovely mauve laminate on the edge of the counter, in one of the photos.
We worked on the bathroom from 9-12. We took a break for lunch and swimming at the new YMCA pool. By early afternoon the counter looked great. It needed to dry, so grout came the next day.
I'm not too confident in my plumbing skills, so I decided to let my hubby put the sink back in. After a two week wait, it's finally back in and kids are brushing their teeth in their own bathroom again! I love it and I'm so proud of myself! This is by far my biggest DIY project. I loved using the power tools! Now all I need is paint and flooring. Then I'll check that bathroom off the To Do list.