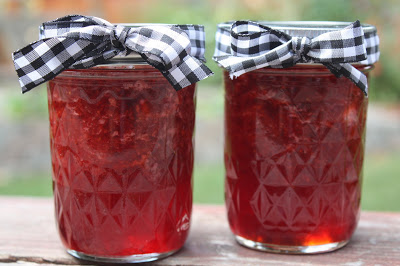 A Berry Cool Day!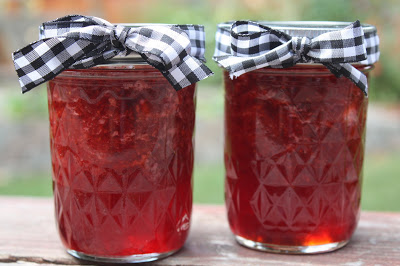 I think every single blog I read has had a post about making jam. But, ohhhhh, how can you not post about these beauties?
We have several different berry farms near our house. A couple of times during the summer I take a car full of my kids, their friends, and my neices to Biringer Farm. (Child labor at its best. 🙂 Kids are great berry pickers and they always have a blast!) My mom lives close to Biringer, so she usually meets us there too. This year my sister joined us. As soon as she saw the pre-picked flats she said, "We could just take those and then be done with this." Hmmmm. Someone doesn't see the joy in a fun-filled day of berry picking! The apple doesn't fall far from the tree because as we were waiting for wagon to pick us up (yep, a good old fashioned wagon ride), by neice said, "Um, Auntie Becca, aren't we just going across the dirt path?" Well, of couse we're going to ride the wagon across the path!!! That's part of the fun-filled berry picking experience! (Although, I will admit, we waited an awful long time for that wagon to take us a few yards down the path.)
Each summer I make enough jam to give out as Christmas gifts. I usually put a cute little fabric topper on each jar of jam and tie it with some raffia. Then I spotted Cheryl's jam over at A Pretty Cool Life. She just used simple black and white check ribbon at the top. I'm obsessed with black and white checks right now, so I went to the fabric store and bought me some of that cute little ribbon. I love Bloggland. Inspiration is everywhere. Thanks for the idea Cheryl! I loved your photo so much, I took my jam outside for their photo shoot debut!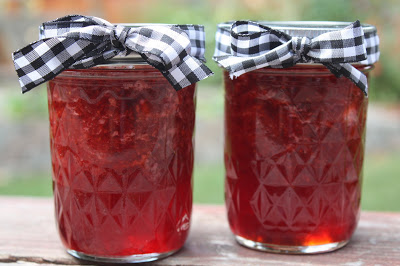 Here are a few linky parties I like to participate in:
https://homeiswheremystorybegins.net/linky-parties-i-like-to-participate-in/