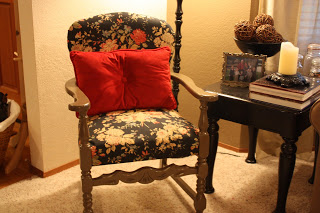 The Chair That Started My "Problem"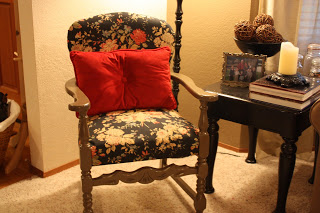 My name is Becca, and I'm a home-improvement-aholic.
That was my Facebook confession a few weeks ago. I recognize that I have a problem. I'm just not ready to deal with it yet. Maybe I'm ADHD, but I sure can get a lot done in a day.
This chair was the springboard to all of my problems. My friend, Crystal (an antique dealer) was cleaning out her garage and offered some chairs to me. She told me they were in pretty bad shape and she just wasn't excited about all the work that would need to go into them. So, I stopped by her house and loaded my car… with every chair I could fit. Two chairs for school, one for the dining room, and the ugly golden 70's mistake that everyone laughed at when I showed them. I wish I was better at taking before pictures, because this would have been a great before and after.
I let the horrid chair sit in my living room for a while so I could just think about it. By this time I had been introduced to the blogging world and I LOVED the way Layla (Lettered Cottage)painted her kitchen cabinets black and then had white walls. I'm a colored wall kind of girl, so the thought of painting a room cream or white is frightening. My first thought was to paint chair black and the walls white, but then I came across the fabric and the brilliant ladies at Calico Corners. I took pictures of my living room and the new/old chair down to the shop. They walked me through how to choose fabrics: a large scale floral, a small check, and a large plaid, making sure the colors all blend together.
So, the floral chair was born. I have never used floral IN MY LIFE, but this is a dark, beautiful, warm, and cozy floral. I'm in love with it. The ladies at Calico Corners conviced me that painting the chair black would make the fabric look almost navy blue. It's a faded and antiqued fabric, so they were right. I ended up painting the chair the same color as the couch, which is also the same color I painted the accent wall, which led to pillows, wall art, reframing current art, rearranging the furniture, painting all of the accent furniture black, a new ottoman, selling all of the brown items on Craigslist, buying new lamps with my birthday money, fixing up the old black lamps from the garage, recovering grandma's rocker, and the list goes on. and on. and on. Just think of all the blogging I have to do on just one room!