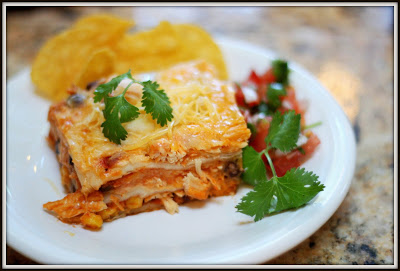 Chicken Enchilada Casserole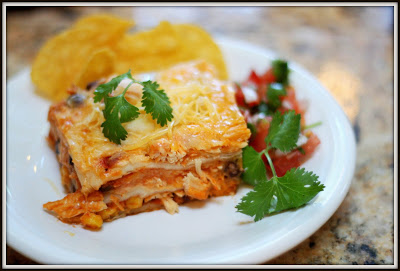 This dish might just make its way into regular rotation. It reminds me of a lasagna, but Mexican style.
Here's the recipe:
Ingredients:
2 large chicken breasts, cooked and shredded
1 package of small flour tortillas
1 can of black beans, drained and rinsed
1 cup of frozen corn
1 can cream of chicken soup
1/2 cup sour cream
1 jar of chunky salsa
1 can of enchilada sauce
3 Tbsp taco seasoning
2 cups shredded cheese
Directions:
Mix sour cream, Cream of Chicken, and taco seasoning in a small bowl. Set aside.
In a large bowl, mix chicken, beans, corn, salsa, and 1/2 cup of cheese.
Layer the ingredients in a 9×13 pan, like you would for lasagna.
cream sauce
tortillas
chicken
enchilada sauce
cheese
repeat
Bake for about 30 minutes at 350 degrees.
We served this with homemade pico de gallo, chips, and salad. Everyone said this recipe was a keeper!
Happy cooking!