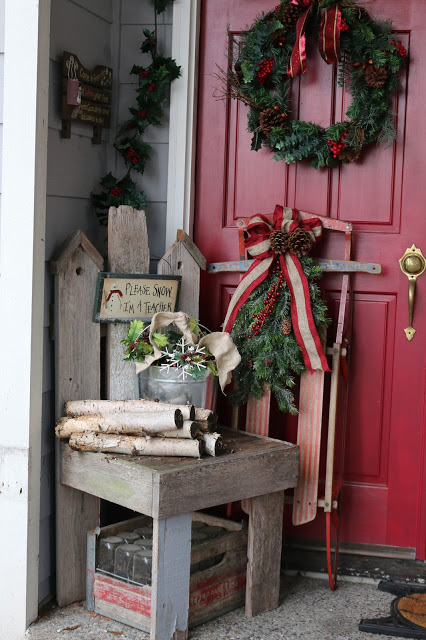 Christmas Front Porch
It's beginning to look a lot like Christmas at my house! I'm still not lifting or moving too much since my back surgery, but my pointer finger works just fine. My kids and my hubby really like it when I ask them to do something and then just sit and point at what I'd like done. (Can you hear the sarcasm?) So, I can't take credit for the loveliness of the front door. My hubby did the work and I just pointed.
I have used the same garland and wreaths for many years. I'd like to bulk it up, but it's hard to splurge on decorations when I could use that money to buy gifts for people.
This is my favorite sign of all time. If you live in my neighborhood, you know how true this is.
Ok, maybe this is my favorite sign.
Ok, I guess I have a problem deciding which sign is my favorite. I love this one too.
I cute sign, a bucket of holly, and some birch logs from the deck are all it takes to make my chair kind of cute!
This is the sled I grew up using. It's missing the middle wood piece, but I still love it. That sled has seen many miles of happy hills!
I'm having a hard time believing that MY sled could possibly be an antique!
Happy decorating!