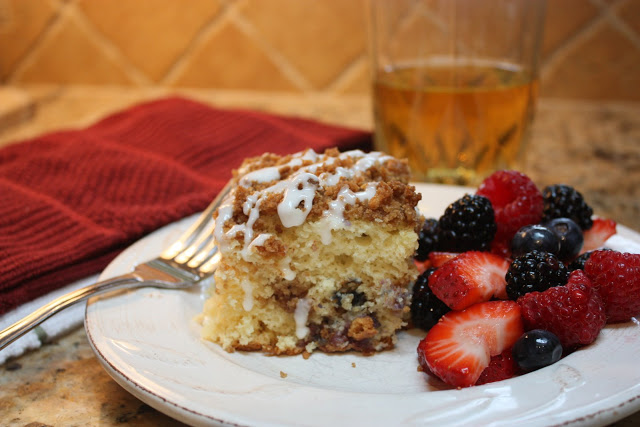 Easy Blueberry Coffee Cake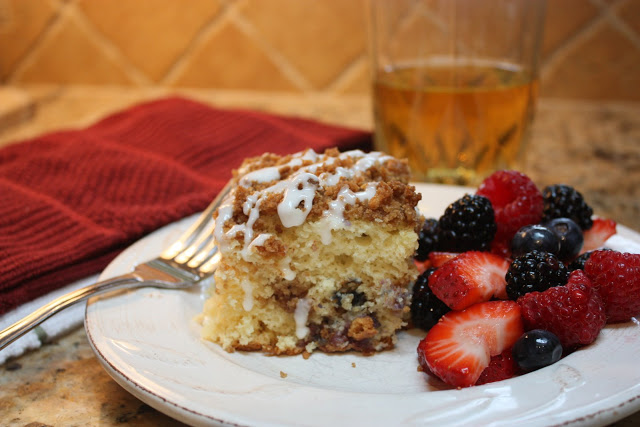 Several years ago my hubby was going to make a coffee cake for Mother's Day. He googled "easy coffee cake" and found this recipe. It has been a family favorite ever since.
Cake:
1 box vanilla cake mix
1 (3.12 oz) box of vanilla instant pudding
3 eggs
1/4 cup oil
1 cup water
Beat ingredients together until thoroughly mixed.
Streussel Topping:
1 package (9 full) graham crackers
1 cup brown sugar
1 stick plus 3 TBSP melted butter
1 1/2 cup pecans (optional)
2 tsp cinnamon
Put all ingredients into a Ziploc bag. Close it and roll with a rolling pin. Add melted butter and mixed it up.
Pour half of the batter into a greased 9×13 pan. Sprinkle with fresh blueberries (optional) and half of the streussel topping. Add the remaining batter, more blueberries, and finish with the rest of the streussel topping. Bake at 350 for 40 minutes. Drizzle with icing. I make mine with powdered sugar and a little bit of milk.
Happy baking!