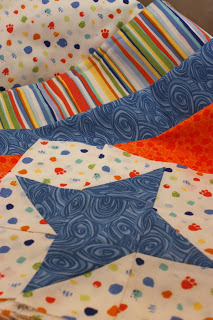 Star Quilt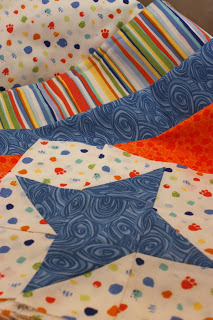 The fun, bright, start quilt is finished! I made this for one of my kindergarten teacher friends, who is ready to have baby #2 any day now. I love the bright colors and the striped accent fabric! She thought it looked very "Eric Carle-ish". It's so hard to pick fabrics for someone else! I'm glad she liked it.
I tried a new product with this quilt. I used fusible batting.
It was a different texture than fusible fleece and it was a little more stiff than my Warm and Natural batting. It was thin, like Warm and Natural, and I LOVED not having to pin before quilting! I would definitely use this product again!
Are you a quilter? Have you tried fusible batting? What do you think? Do you have a favorite brand?
Happy quilting!