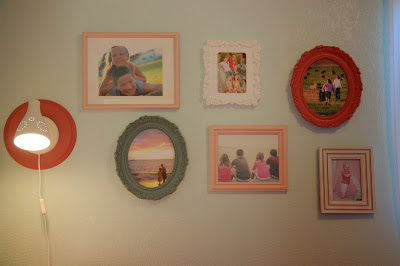 Gallery Wall With Painted Frames
I still haven't posted pictures of my daughter's finished room because… well… the room isn't exactly finished yet. The curtains are still hanging in puddles on the floor, waiting to be hemmed and embellished. The quilt is still at my long arm quilt lady's house, being finished, and I haven't even started on pillows or cute pillow cases.
I did finish up the gallery wall with some cute painted frames though!
Old picture frames and several paint colors make a pretty cool gallery wall, if I do say so myself!
I can't wait to show you the finished room! Maybe I'll get everything done by Spring Break! Now, I need to find more things to paint with those cute sample size paints!
Happy painting!