Graham Cracker Gingerbread Houses
The kids have gotten better and better every year and patiently working on their houses.
I ask every family to bring a candy item to share. My favorite candies for gingerbread house decorating are Lifesavers, Neccos, small candy canes, red hots, red and green M&M's, Twizzlers Pull Apart licorice, gumdrops, and pretzel twists. (Pretzel twists make great fences.)
When the kids were little, I prepared the house bases ahead of time, so all they had to do was add the roof and candy. I still prepare the houses ahead of time for Kindergarten. (Actually, my parent volunteers prepare them.) Since my kids at home are bigger, we just build and create! Sometimes the candy houses turn into candy fortresses.
Here's how I build the bases when young kids (first grade and under) are decorating with us. The only reason I do the base for the kids is that it is very frustrating when you are 4 years old and your house falls apart every time you try to add candy. Royal icing needs time to dry and harden. Patience is hard when you're 4. Building the house bases is really easy. I start with foil covered cardboard. They make simple platforms for the kids to create their "yard". I cut the graham crackers with a bread knife and assemble the house base with royal icing. I always use the royal icing to "glue" the house base to the platform. This is what an assembled house base looks like when it is ready for the party to start.. I make one for each child and a few extras in case we have an accident.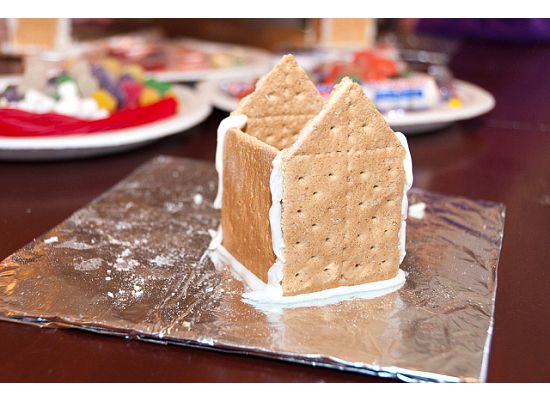 I let the kids add the two pieces for the roof and all of the decorations. Royal icing is best for assembling houses and decorating. I usually make several batches of Royal icing and put it into individual quart sized freezer bags. (Don't use sandwich bags because they pop.) When it's time for decorating, I just snip off a small corner of the bag.
The recipe for Royal Icing is included in the package of Wilton Meringue Powder. I buy my meringue powder at Michael's. If you can't find meringue powder, I'm sure you can google a recipe for a similar icing that calls for egg whites. I've always used the meringue powder recipe because raw eggs freak me out. (Unless, of course, I'm eating cookie dough.)
3 Tbsp Wilton Meringue Powder
4 cups sifted powdered sugar
5 or 6 Tbsp warm water
Beat all ingredients, with heavy duty mixer, until icing forms peaks. (7-10 minutes)
Here are a few examples from our gingerbread party last year.
This one was Rudolph's barn.
This is a gingerbread manger.
If you've never done this before, this is the year to give it a try. My kids always look forward to this day. I'll admit, I've toned it down over the years. The first few years we invited about 30 kids and their parents, served lunch, and hosted all-out party. Now, we just have family. There are 10 kids and one crazy mom who just loves being the Gingerbread Queen.
Happy Decorating!