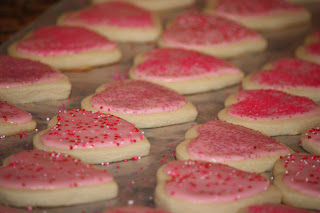 Happy Birthday
Today is my mom's birthday. I called her this evening to wish her a happy birthday. I'm not even sure how we got onto this subject, but I told her that I wrote in my blog about my great memories of homemade bread and warm cookies on Wednesdays after school. I vividly remember the warm smells and all of the neighbor kids coming over because they knew we had great treats on Wednesday. (We went to Jamie's house on Tuesday because it was Commissary day.)There is just something about baking that makes a house feel like a home.
As I'm thinking about this, I'm realizing that maybe that's why I love to bake so much. I don't bake because I'm hungry for cookies, although who doesn't like cookies? I bake because it's comforting. It reminds me of home. It gives my children memories.
At Christmas I was making cinnamon rolls for a family party. My son was sitting at the counter. He smiled and said, "I love the sound it makes when you slice the dough for the cinnamon rolls." I told him I hoped that was a happy sound he'd always remember. I think we all try to recreate happy memories from our childhood for our children. The kitchen is truly the heart of our home and the place where memories are made.
Happy birthday, Mom! Thanks for making great memories for me!