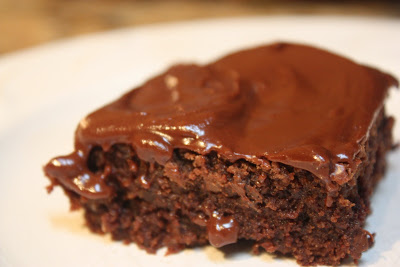 Homemade Brownies
This is the brownie recipe my mom always made for us when we were growing up. It's straight from the good old Better Homes and Gardens Cookbook. We never had boxed brownies growing up. I didn't even know boxed brownies existed until I was in junior high. As much as I enjoy them, there is nothing better than this recipe for homemade brownies. I ALWAYS frost my brownies too. It would be a sin not to.
Fudge Brownies
1 Cup Butter
4 ounces unsweetened chocolate squares
4 Eggs
2 Cups Sugar
2 tsp Vanilla
1 1/2 Cups Flour
Add a handful of chocolate chips to the batter, just because they're yummy.
Grease 9×13 pan.
Melt butter and chocolate over low heat. Remove from heat. Stir in eggs, sugar, and vanilla. Using a wooden spoon, beat lightly until just combined. Stir in flour.
Bake for 30 minutes at 350 degrees. Let them cool and then frost.
Happy Baking!