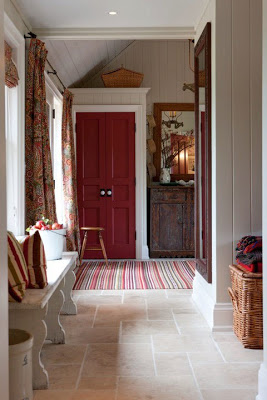 An Inviting Entry
I loved watching the last season of Sarah's House on HGTV Canada. She designed my dream farm house. The colors and fabrics she chose made my heart go pitter patter. Just look at this entry.
I love everything about it. I love the paisley curtains, the striped rug, the chippy old furniture, comfy pillows, wicker basket, and THE DOOR! I LOVE THE RED DOOR. I BIG, FAT, HEART THAT RED DOOR! I strive to make my entry as warm and inviting as Sarah Richardson's.
The changes to my entry have been coming slowly over the past few weeks. Over the weekend, I decided to add my chippy red bench from the backyard. I would have loved to paint the doors in my house, but I don't think my hubby would approve of that idea. So, instead, I added the red in the form of this chipped paint bench that has served me well for about 10 years now. I also added a fall basket with some of those wonderful smelling pine cones.
If you look carefully, you can see that Sarah adds hats and coats to the entry. We all know she doesn't actually wear those straw and woven hats out in the garden. It's all for show and to add a little texture. My attempt at adding texture is my woven bag and a jacket. That way my guests know that the hooks really are strong enough to hold their jackets. The bench will serve as a nice place to put a handbag too.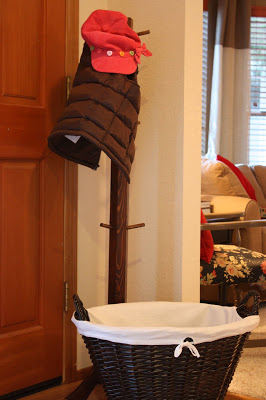 The kids' coat rack and freshly painted basket offer one more place to hang your things.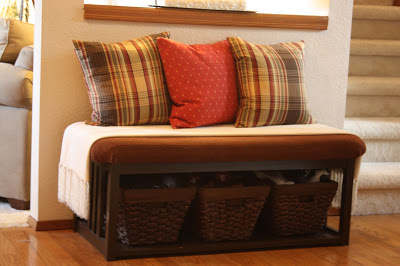 The warm pillows and blanket add a touch that I think is Sarah-worthy.
You can't go wrong with fresh flowers from the yard.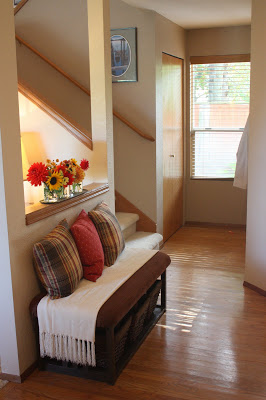 Now all I need is a striped rug and those paisley curtains.
If you are not familiar with The Inspired Room blog. You should really go check it out. She recently posted about Sarah's farmhouse entry. I think she must be my soul mate in decorating. Everything she has posted about this month describes my vision perfectly. Oh, and she lives somewhere in the Seattle area too. We are practically neighbors and BFF's.
Happy decorating!