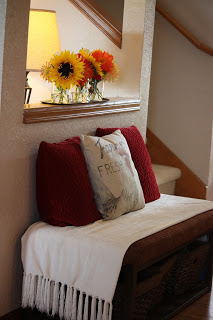 Decorating With Fresh Flowers
Wouldn't it be nice to have fresh flowers in your house all year long? It's an expense I can't justify, but during the Summer months I indulge.
Don't get me wrong. I don't spend the kids' college fund on flowers for myself. I cut them from my yard and enjoy their beauty inside. It's always a little painful to bring them inside. I know if I bring them inside, the garden beds will look bare. Fortunately, this time of year my garden is filled with flowers. I try to pick the best flowers. (Those that the slugs haven't gotten first.) The half eaten flowers still look pretty from a distance, so those stay in the yard.
I'm loving all of the blooms my Annabelle hydrangea has shared with me this year. This is the longest lasting cut flower I've ever had.
Even the bathroom gets a few blooms.
You've gotta love decorating with fresh flowers from your own yard. It just makes me happy. If only I could get rid of those slugs, once and for all!
Happy gardening!