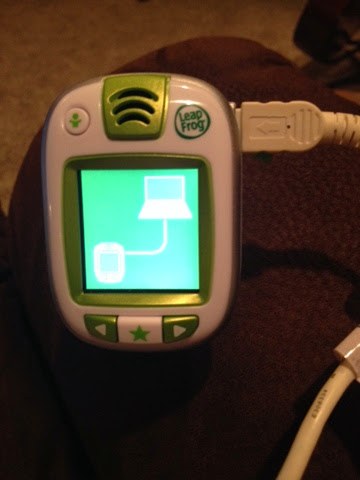 LeapFrog LeapBand Review
Most of you know that I've been lucky enough to work with LeapFrog in two ways over the past year or so. I've been writing content and taking photos for their Learning Path site for several months now, which has been an absolute dream come true! I've also been part of their network of bloggers who review new products. The first job, as a writer and photographer, is a paid position. The second job, as a product review, is not paid. They just send me products and I tell my readers what I think, coming from the perspective of a teacher and a mom. So, the opinions you read here are completely my own. I'm not paid for posting about the new LeapBand. I was simply given the product to review and share my honest opinions.
Now that the legal stuff is out of the way, let's get to that "honest" part. I was super excited to get the LeapBand in the mail. I had heard a little about the concept of the LeapBand and couldn't wait to see what LeapFrog would do with the idea. As you might know, I think LeapFrog is THE MOST brilliant company on the face of the Earth when it comes to educational toys for kids. I was a HUGE fan even before I worked for them. So, the LeapBand arrived and I let my daughter play around with it first. (She's 10, by the way, which is past the recommended age of 4-7 for this product.) She opened it up, played around with it for about 3 minutes and said, "Hmmm. I guess little kids might like it." Usually, with any new LeapFrog toy, she will at least show some interest. After she tossed it aside, I decided to play around with it and – honestly – I thought it was slightly better than ok, but not the coolest thing LeapFrog has ever come out with. (Keep reading because things do get better!)
I played around with the LeapBand for a few more days, and I'm glad I did. Not only did I learn a few things by playing with it, but I learned a TON by watching a few different online video reviews.
Cool LeapBand Facts:
*It's the first activity tracker for kids! I see people wearing activity trackers all the time and hear about how cool they are. I've always kind of wanted one, but haven't actually bought one yet. If you were a "fit band" type of family, and you had a young, 4-7 year old, child… wouldn't it be cool to have a an activity tracker just for the kids? You can even connect it to the computer to track data and play with the settings.

*It visually shows activity done throughout the day. There is a little bar that colors itself in as you move. The more you move, the more it lights up. It encourages kids to move and be active!
*The activity challenges are pretty cute. I think I might need to put this band on the wrist of a few of my kindergarten students. I can just see it now – sitting in Writer's Workshop and all of a sudden I hear, "Jump like a kangaroo!" I can name a handful of my little friends who would LOVE (and need) one of these!
*It doubles as a watch. I had trouble with this feature at first. For some reason, it wouldn't let me set the time. I finally noticed that I had checked a box on the computer setting that wasn't allowing me to set the time. Not only is it an activity tracker, but it's also a watch, and it's a personal pet you can take along with you all day long! How cute is that?
*There is a great app called Petathlon. You download the app on your phone, sign in with your email and LeapFrog password and you unlock new games to play that connect with your LeapBand. It gives you "fit" advice and tips along the way as well. It even connects with your LeapFrog Tablet!
(Screen shot from my phone)
To sum it up, at first I thought it was good product, but not great. After playing around, I'm thinking this is a keeper! For the price of $39.99, this is kind of awesome! It does SO much more than I expected. I really think I might try this out in my classroom with a few of my bouncy friends. Nice job LeapFrog! This new product is pretty cool. (And I'm sorry I doubted you momentarily!)