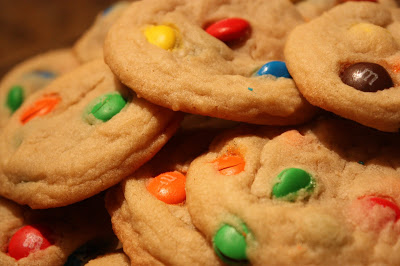 M&M Cookies Mmmmmm…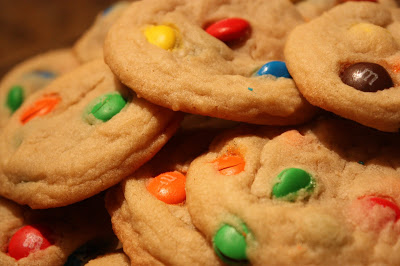 This is one of my favorite cookie recipes. My friends and family call them Becca Cookies. They are always soft (as long as you don't overcook them) and they hold their shape. They don't melt down into a ball of goo, like some cookies do when they bake. The dough is really just my favorite chocolate chip cookie recipe. Instead of chocolate chips, we used M&M's. Sometimes we use the Reese's Peanut Butter Chips or even peanut butter M&M's. Any of these options make a scrumptious cookie.
I usually make cookie dough in my standing Kitchen Aid mixer. Sometimes when my daughter helps, we use the handheld Kitchen Aid mixer. It's easier for her to handle and she feels like more of a helper.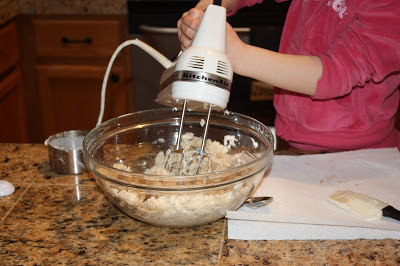 Here's the recipe:
1 Cup Crisco shortening (original, not butter flavor)
3/4 Cup brown sugar
3/4 Cup white sugar
Mix until soft and fluffy.
Add:
2 Eggs
1 and 1/2 tsp vanilla
Mix just until blended.
Dry ingredients:
2 and 1/2 cups flour
1 tsp baking soda
1 and 1/2 tsp salt
Mix it up and add a bag of M&M's or chocolate chips.
Bake for 10 minutes (or less) on 350 degrees. My oven is a standard oven, not convection, and this is what I do.
This is the dough after adding the M&M's. I have to say Chocolate Chips will ALWAYS be my favorite!

When I have made M&M cookies before, I've noticed that the M&M's kind of sink down into the cookie. They are not quite as bright and colorful when this happens. So, after we scoop the cookie onto the pan we add a few more M&M's to the top of each dough ball. I always use a good size cookie scoop to form the dough balls. I also don't ever bake cookies without my Silpat baking mat. I love these baking tools!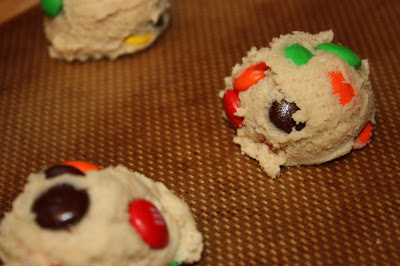 Fresh out of the oven.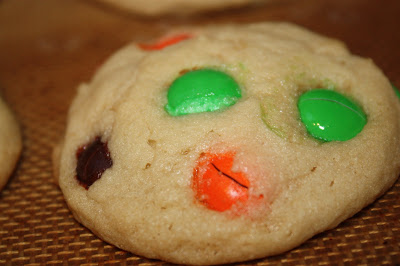 Once the cookies have cooled, I put individual cookies into ziploc bags. These go into the freezer for the kids' lunches. I have always thought it was a special treat for my kids to have a homemade cookie in their lunch each day. A few weeks ago my son was begging for me to put some oreos or packaged cookies in his lunch. Now I realize that the packaged junk is the treat for my kids because they never get those types of cookies! I'm sure I've scarred them for life. They'll probably never want to bake with THEIR children when they are older.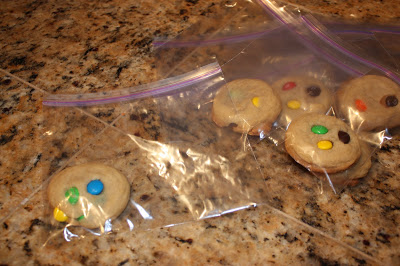 Don't you want to go bake a batch now? They're even better when it's raining outside. Happy baking!
Here are a few linky parties I like to participate in.