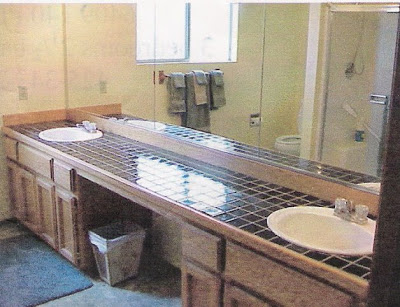 Master Bath – In Progress
Once again, I start by saying that I have absolutely no decorating sense. There were a few classes in my Family and Consumer Science major on textiles and design, but I really have no formal training. I love to read decorating and design books and magazines. I know what I like: warm and cozy, contrast in colors, texture, natural materials, and FABRIC! Oh, how I love fabric! When I'm starting a new room I have no vision of my own. I could not create a space, of my own design, if my life depended on it. I'll admit it… I'm a copycat. I look through books, magazines, and catalogs until I find an inspiration room. I love to watch Rate My Space because it validates stealing ideas from other people.
Our master bath screams 1991! Here's the picture from real estate brochure, from when we bought our house. It's a nice size bathroom, with lots of counter space, but that's about all it has going for it.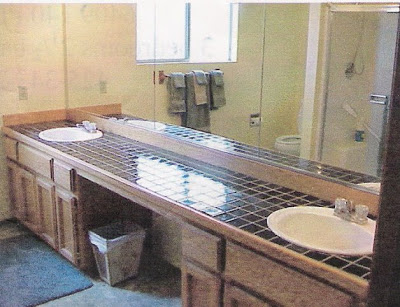 I ran across this picture in a magazine and fell in love. It has everything I love; natural materials, texture, contrast in color, and a warm and cozy color on the wall.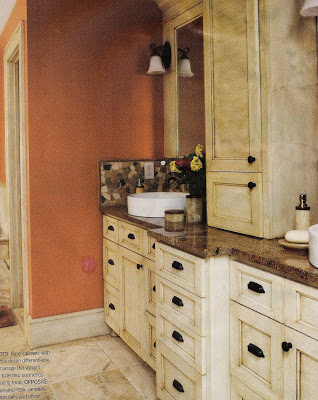 So, here are the first updates in our master bath redo. I'm trying my best to copy the picture.
Painted cabinets (painted but not glazed yet):
Spicy orange walls: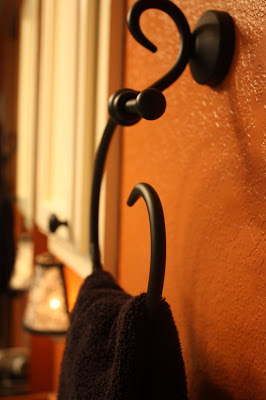 Texture and contrast:
I need to learn to roll towels so they look spa-like, not shoved onto the shelf.)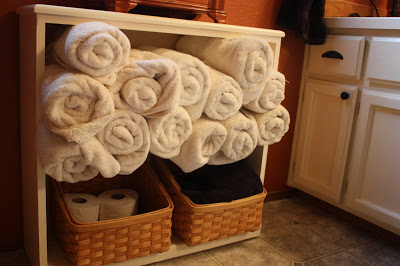 We're well on our way. Tile and flooring is on the to do list next!
Here are a few linky parties I like to participate in:
https://homeiswheremystorybegins.net/linky-parties-i-like-to-participate-in/