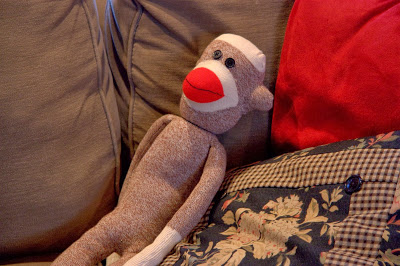 Meet Sock Monkey
With a few days left before Christmas, I had a new sewing project (the quilted pillow I shared yesterday.) My daughter, on the other hand, was going to need something to keep herself busy. Do you know how those days, right before Christmas, can be exhaustingly long when all you hear is, "How many more hours until it's Christmas?"
My problem was solved when my daughter spotted this sock monkey kit at the fabric store, when we were picking out fat quarters for my mom's quilted pillow. I think I shocked her with the answer to the question, "Mom, can I buy this?" She wasn't expecting me to say, "Sure. Do you think you'd have fun making it?" It's not often that I tell my kids they can buy something for themselves, just days before a holiday like Christmas.
She could hardly wait to get home! Right away, we set up Santa's Workshop. I needed my sewing table for my mom's present, so we set up the folding table in the living room for my little buddy to use. Hindsight, I probably should have set her up somewhere less obvious. We had many, many, friends stop by with goodies and the first thing they saw was the sewing station.
After a couple of hours, Sock Monkey was born. I offered a few more creative name suggestions, but I couldn't convince my youngest that there was a more suitable name than Sock Monkey.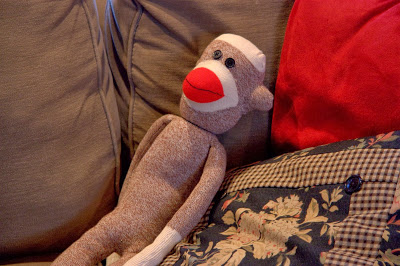 I've said this before, but I'm incredibly impressed that my 9 year old knows how to set up her sewing machine, thread the whole thing and start sewing with a fairly consistent 1/4 inch seam. She did absolutely all of the cutting and machine sewing on her own. She turned the pieces and stuffed the monkey too. The only part she needed help with was the hand sewing. That's her least favorite part of any sewing project. I can't say I blame her.
Sock Monkey has been our favorite toy over the past few days. He's been dancing with his BFF, spending time watching her play Barbies, and he commands an audience like no other monkey you've ever seen. School is in session, in the photo below.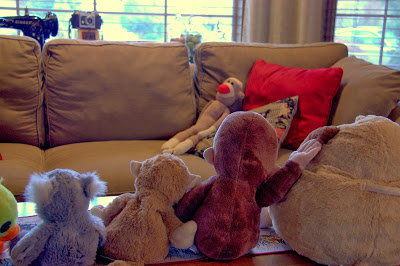 Are you one of those people who really wishes they could sew, but just don't give it a try? It really didn't take long for my daughter to become confident with a sewing machine. Give it a try, Friends! Maybe you'll end up making a new best friend too!
Happy sewing!