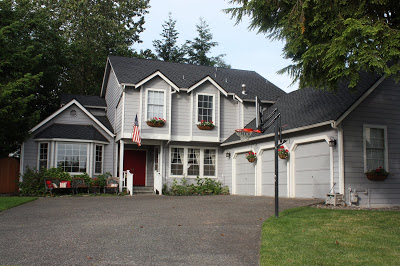 Red, White, and Blue Cottage Inspiration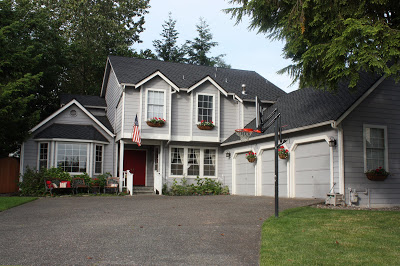 Back when AnNicole had her How I Met My House party, I wrote a post and realized I had no current pictures of the front of my house. My house has changed since we first moved in. It has evolved from low maintenance shrubs to the cottage garden I have always wished for.
Here's the before photo (from the original brochure when it was for sale):

Here's the picture I took this morning: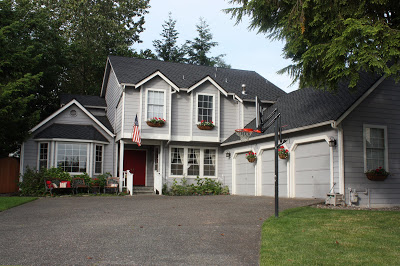 In a few more weeks the window boxes will start spilling over.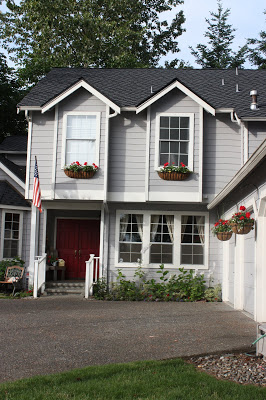 Most of the flowers are not in bloom yet.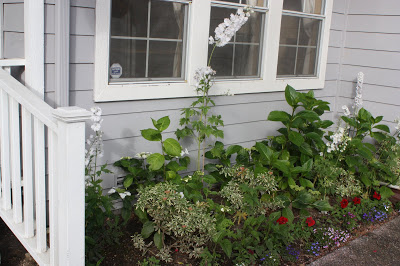 Usually by the Fourth of July, my front yard is at its peak. Seeing the difference in the before and after, even without the blooms, made me start thinking about the transformation process, my inspiration, and how it came to be.
First off, I should say I'm addicted to HGTV and DIY network. I love watching Landscape Smart, Yard Crashers, Desperate Landscapes, and Curb Appeal. I also love to check books out from the library and browse through landscape ideas. Country Gardens Magazine is where most of my inspiration comes from. They do a perfect job of integrating found objects, antiques, and the look of a cottage, country, or farm home.
Once I had an idea of what I wanted my yard to look like in my head, I had to figure out what the flowers were called. I knew many of the names, but asked my local nursery for help figuring out what to plant and where to plant it.
I love my hanging baskets and window boxes. I think they make my house stand out from the other houses in the neighborhood. They are a little extra work, but worth it.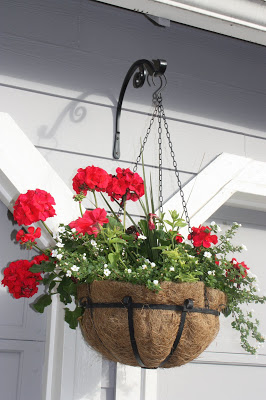 I decided to go with a red, white, and blue color scheme because of the red door and the color of my house. I also have a party on the Fourth of July each year and it's the perfect setting. Later in the summer I usually add a little pale yellow, just so my house doesn't scream, "Happy 4th of July!" into September.
But since the Fourth is just around the corner, the flag is the perfect finishing touch.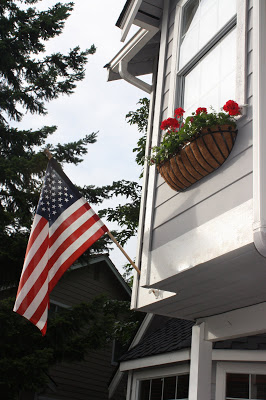 How about you? Where did your inspiration come from and what colors do you use?
Here are a few linky parties I like to participate in:
https://homeiswheremystorybegins.net/linky-parties-i-like-to-participate-in/