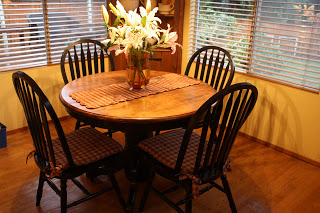 My New – Old Kitchen Table and Chairs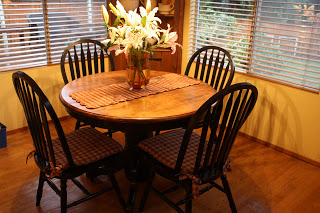 When we were newlyweds, my husband and I splurged. We went to The Bon Marche Furniture Store and bought a beautiful blonde oak dining table and four matching chairs. It wasn't one of those dark oak tables that were so 80's. It was a pale, yellowish oak that looked so 90's. Fast forward fifteen years… it was still a pale, yellowish oak table that looked so 90's.
I started shopping around last summer, thinking it may be time to update our first purchase as a married couple. Hmmm… I guess it had been a while since I had been furniture shopping. I had sticker shock. I couldn't imagine spending $800 on a kitchen table that my kids would color, paint, and spill all over. The answer to my problem came in the shape of mouse ears. Mouse Ears is the perfect shade of black Behr paint from Home Depot. It's from the Disney line, which is why the name is Mouse Ears.
I started by finding an inspiration picture in the Pottery Barn catalog. The picture had the same shape table and same style chairs, but in a more modern color. What would I do without Pottery Barn?
Next came the sanding, lots and lots of sanding. I sanded for days. I finally felt like it was perfect. No trace of varathane or the old yellow stain could be seen on the table top… so I thought. Once I put the first coat of stain on, I realized that the color was horribly uneven. It was because I hadn't gotten ALL of the varathane off and the stain couldn't penetrate to the wood. So, back to sanding I went. My helpers (ages 8 and 5)assisted with the next sanding process. We sanded for a few more days. When we thought it was perfect we sanded some more. It was a lot of work, but it was worth doing it again. We had a much better look the second time around.
We painted the base of the table and all of the chairs with primer and then 4, YES FOUR, coats of Mouse Ears. I put several coats of varathane on the table, but decided not to varathane the chairs. I figured they would get pretty banged up and I wanted to be able to touch them up with black paint as needed.
Then we waited. I wouldn't let anyone sit on the chairs or use the table for about two weeks, so I was sure the paint had time to cure. Again, worth the wait. Meanwhile, I decided to paint the stools in the kitchen with my Mouse Ears paint.
Overall, I spent many hours on the project, but I'd say it was worth it. We have a new table without spending much money. It's updated, and so 2010. I won't be upset if the kids color all over it, because it's the same table I've had for fifteen years.
After my daughter saw the finished product, she said, "What are you going to do when you get tired of black?" My response was, "Maybe 5 years from now I'll like the cottage look and we'll paint everything white!" She said, "Oh, no. Here we go again."