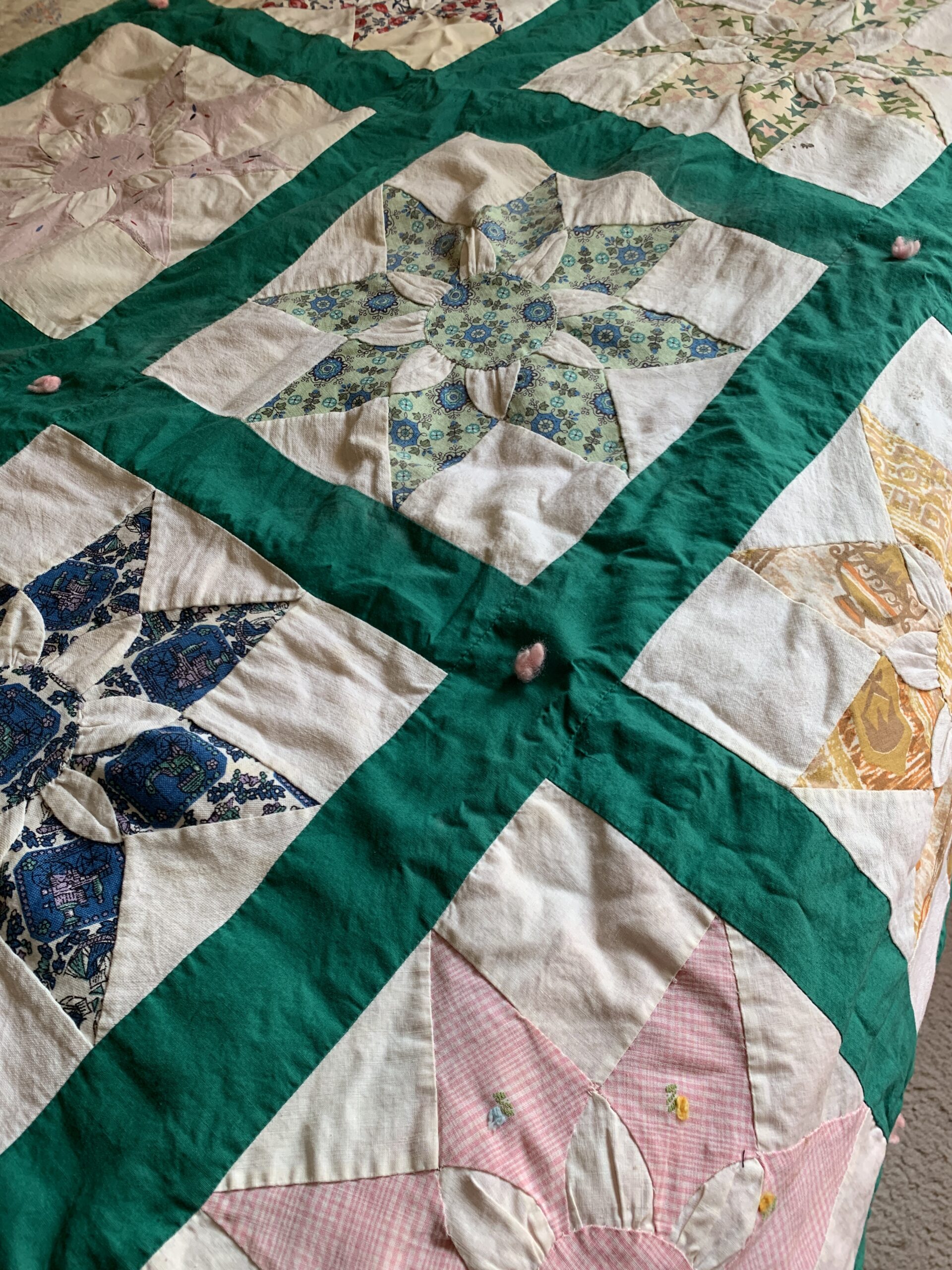 My Quilting Story – How I Started Quilting
I've been listening to the Quilter on Fire podcast recently and I noticed that the host always asks the person she is interviewing what their quilting story is. I love that question so much because I love hearing how people began on their quilting journey. It made me really start to think about my own quilting story. What turned me into a quilter and not a scrapbooker? What drew me to something that is so artistic when I am the furthest thing from an artist? Well, here's my quilting story…

My mom and grandma both taught me to sew when I was pretty young. I loved making stuffed animals or aprons on my mom's 1960's Singer. We always had homemade quilts on our beds growing up. My mom would always tie the quilts with yarn rather than machine quilt them. Whenever I see that type of quilt, it always reminds me of the 70's and 80's. One of my favorite quilts that my mom made was one that she made with her sister. They appliquéd their own houses, along with my grandparents' lake house onto the quilt.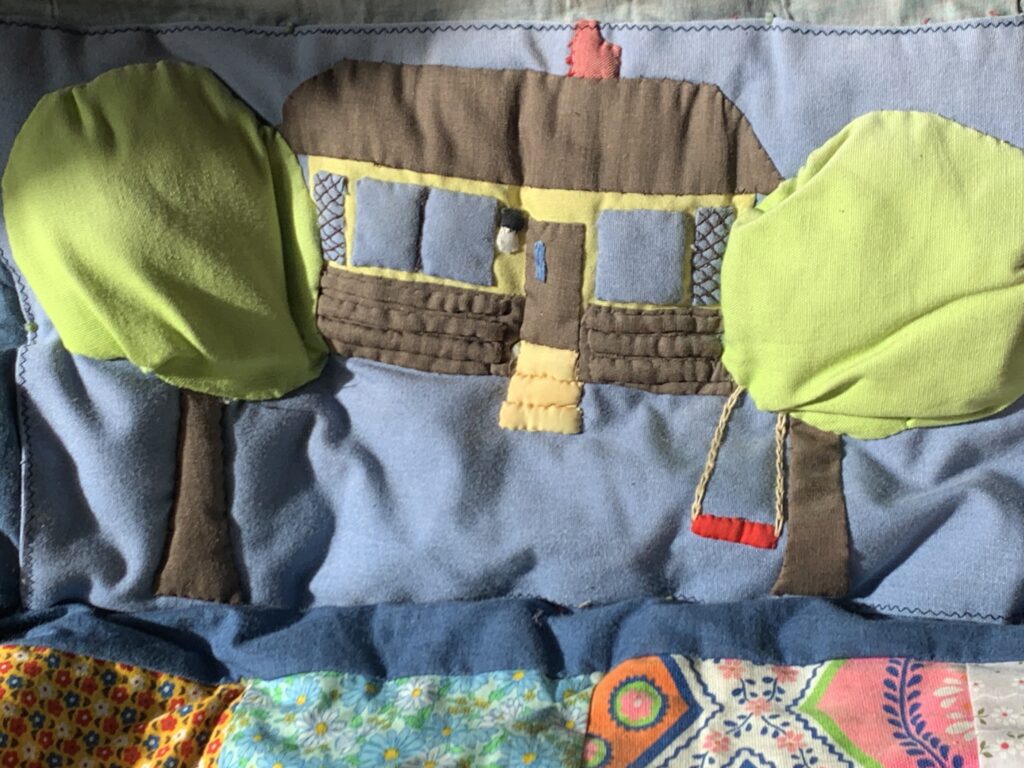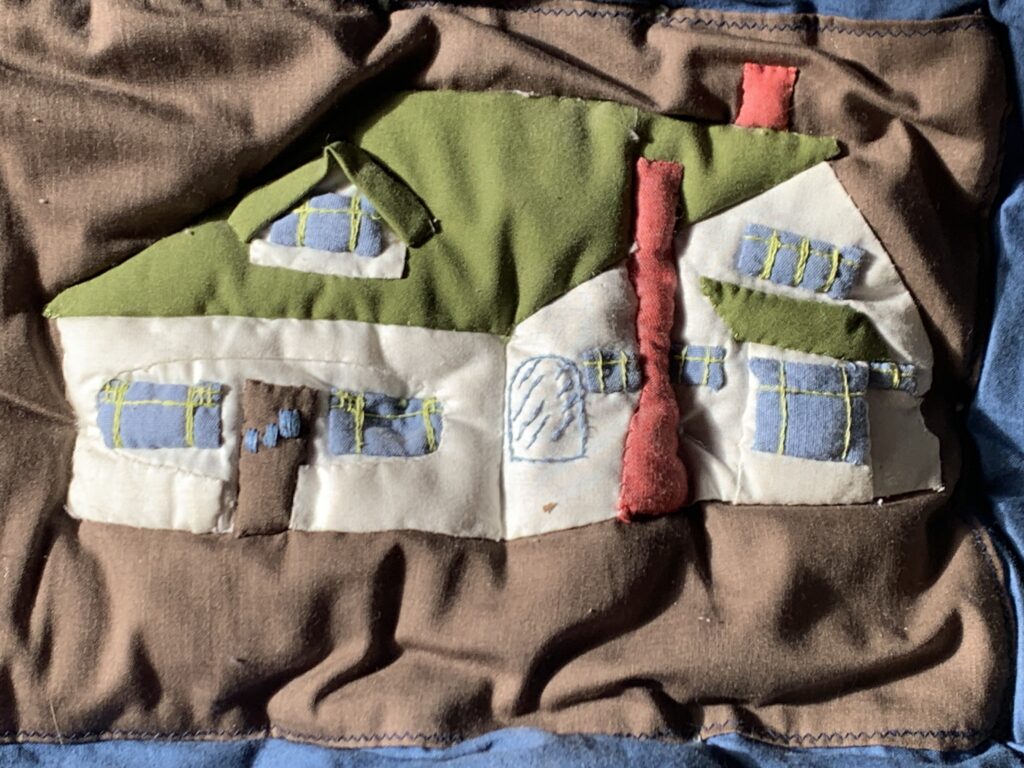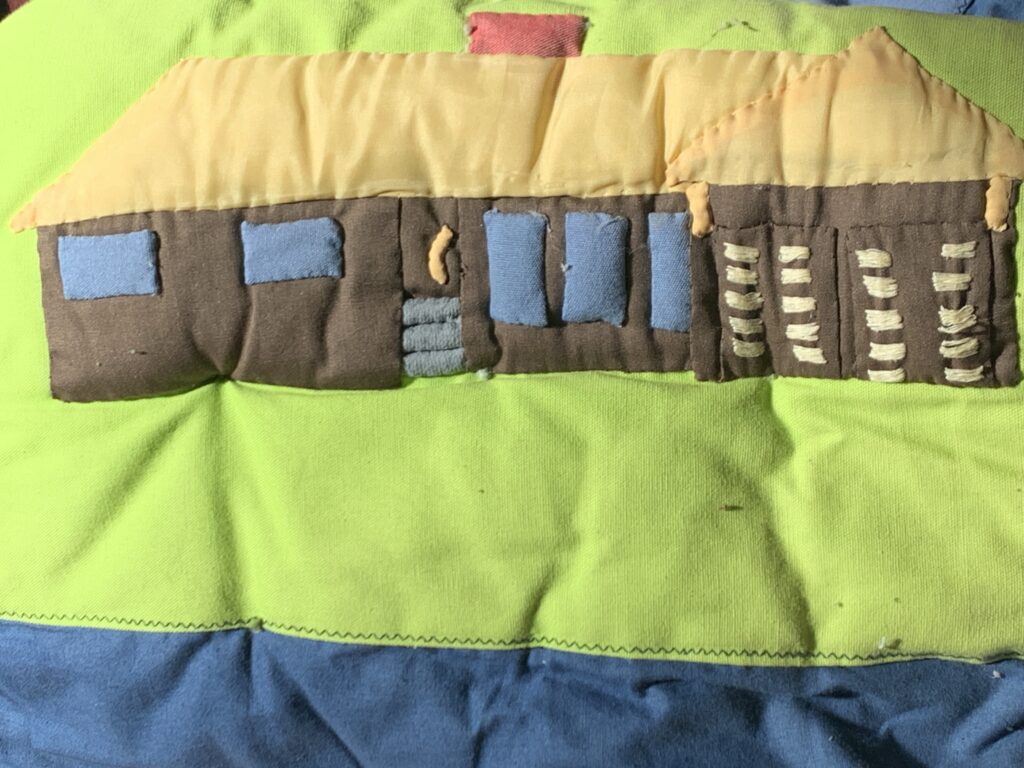 When my grandma was packing up to downsize, she gave me a few old quilts and a quilt top that were made by her mom or my grandpa's mom. So, I guess you could say that quilting is in my genes.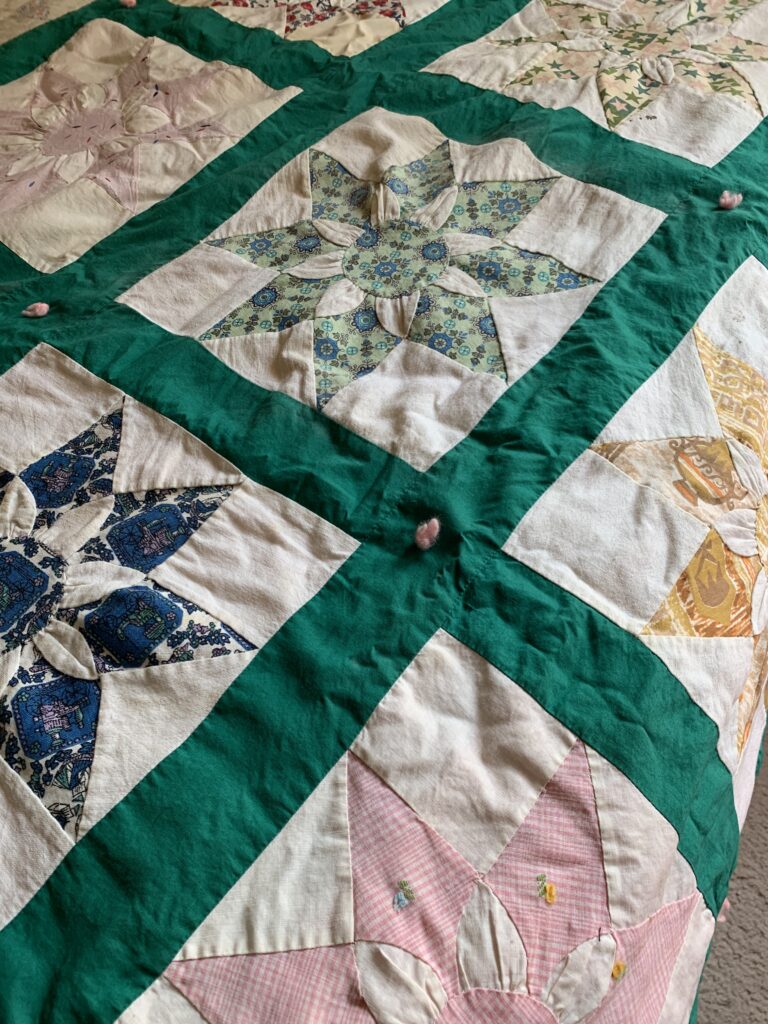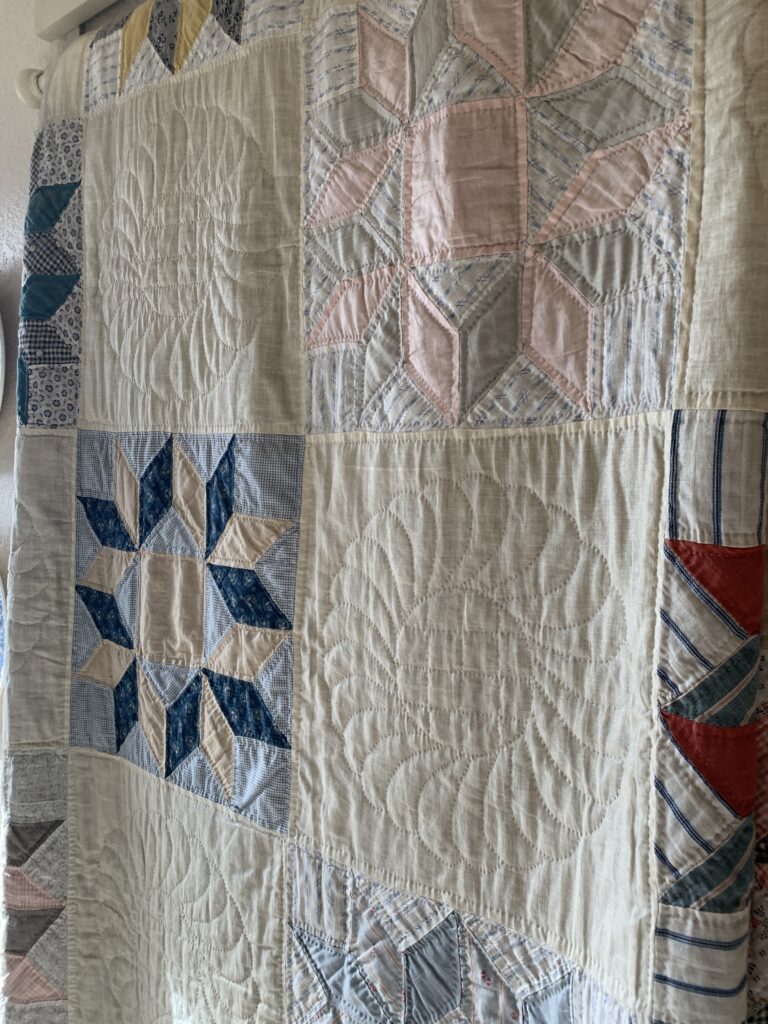 I made my first quilt when I was in college. I'm pretty sure most college kids don't stay home and quilt on Friday night, but I've always been a home-body. My first quilt was a Trip Around the World quilt in red, white, and blue. It was my first time using a rotary cutter, cutting mat, and ruler. I did a TERRIBLE job of cutting my fabric. My fabric was only 1/8th of an inch off on each cut, but when you add that up, you can imagine how wonky it was by the end. I tied it off with yarn, just like my mom used to do. A while later, I decided that I didn't like the finished look, so I took out all of the ties. I was planning to quilt it, but then decided it was too much trouble for a quilt that was so wonky in the first place.
My next quilt was a labor of love. At this time, I knew I wanted to make beautiful quilts, but still didn't really know how. I went to the public library and checked out every book they had on quilting. I read them and learned more about how to actually make quilts. Then, I spotted the most amazing Fall leaf quilt in one of the books. I totally fell in love with this quilt. I went to my local Jo-Anne fabric and bought a bunch of fall colored fabrics and fabric for the border that made my heart happy. This was going to be a queen size quilt. I spent a LOT of time working on this in the tiny apartment that my husband and I lived in. I remember getting SOOO frustrated with my 60's hand-me-down sewing machine, and I couldn't afford to have it serviced because it was going to be more than a new machine. At that point, my wonderful crafty-supporting-husband took me to Sears and let me pick out a machine that would actually sew without me yelling at it.
Fast forward 25 years and I've made more quilts than I can count. I've made baby quilts, wedding quilts, Summer quilts, picnic quilts, quilted wall hangings, and now machine embroidered quilts. I have quilts in every room in my house. I've upgraded machines over the years and now have a Bernini 770 QE (quilter's edition). For years, I said that all I needed was a machine that would sew a straight line with a 1/4 inch seam allowance. I still stand by that statement, but having all of the bells and whistles makes sewing so much more fun. Now that my kids are grown, I have time to take classes to learn how to use all of those bells and whistles on my machine. (Although, I don't think it's possible to learn EVERYTHING this machine can do when you are not treating sewing as your full time job.) Last Summer, I even took a class to learn how to use a longarm machine at my local quilt shop. They rent their machines by the hour, so it's the perfect option for someone who wants to finish their own quilts but doesn't have room in their house for a 12 foot long machine.
One of my first quilts on the longarm was one I was sending to Project Linus, after the Uvalde school shooting. They were trying to get enough quilts for every single person (child or adult) who was impacted by the school shooting, to give to them on their first day back.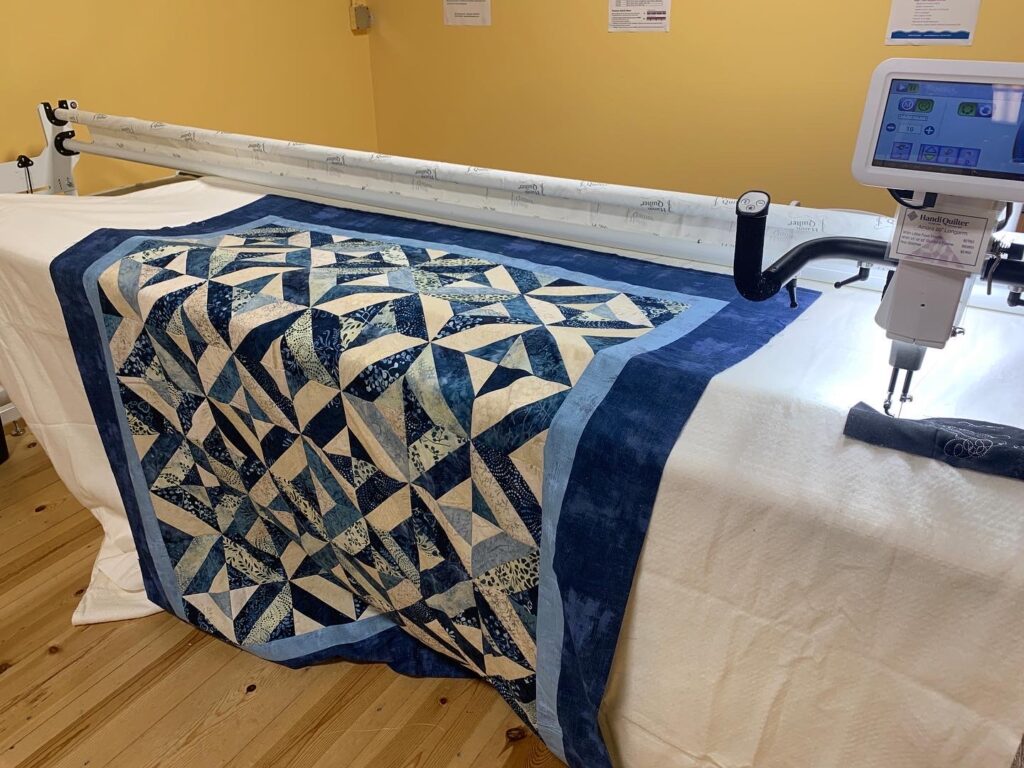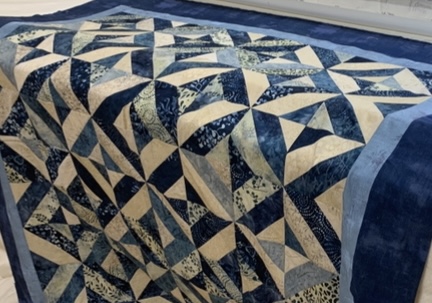 I think one of the smartest things I did was purchase an antique quilt top off of Ebay and use that as a practice quilt for longarm quilting. I didn't have any sentimental attachment to it, so I was ok with messing up once in a while. It actually turned out pretty good and I have this in my family room now.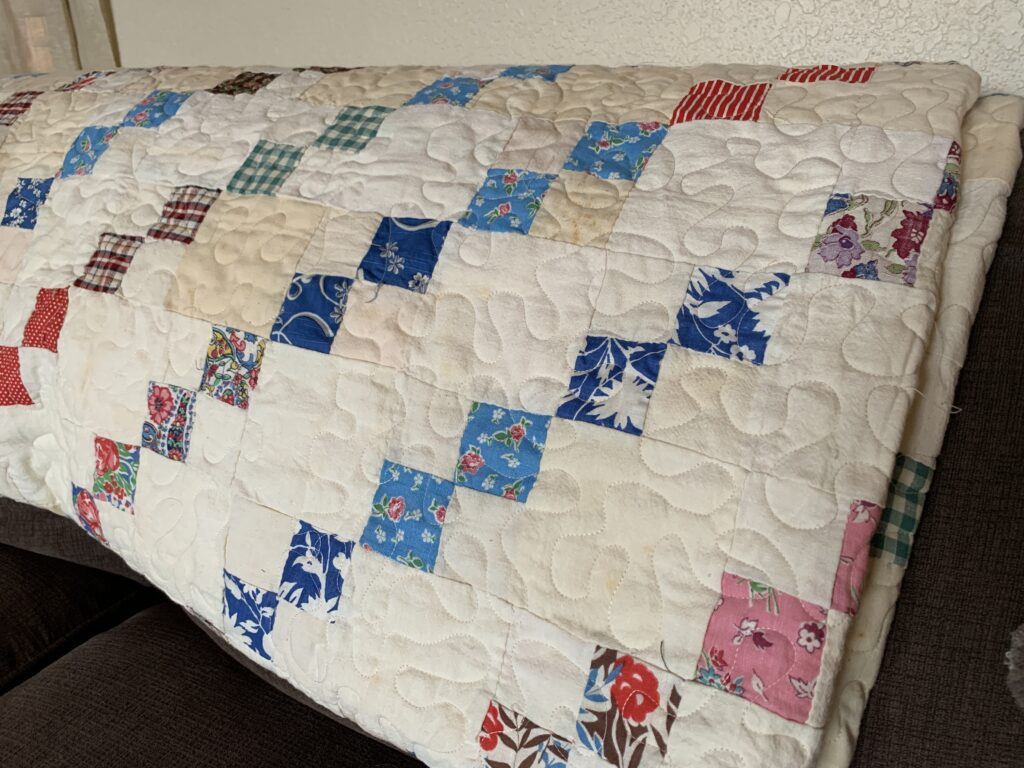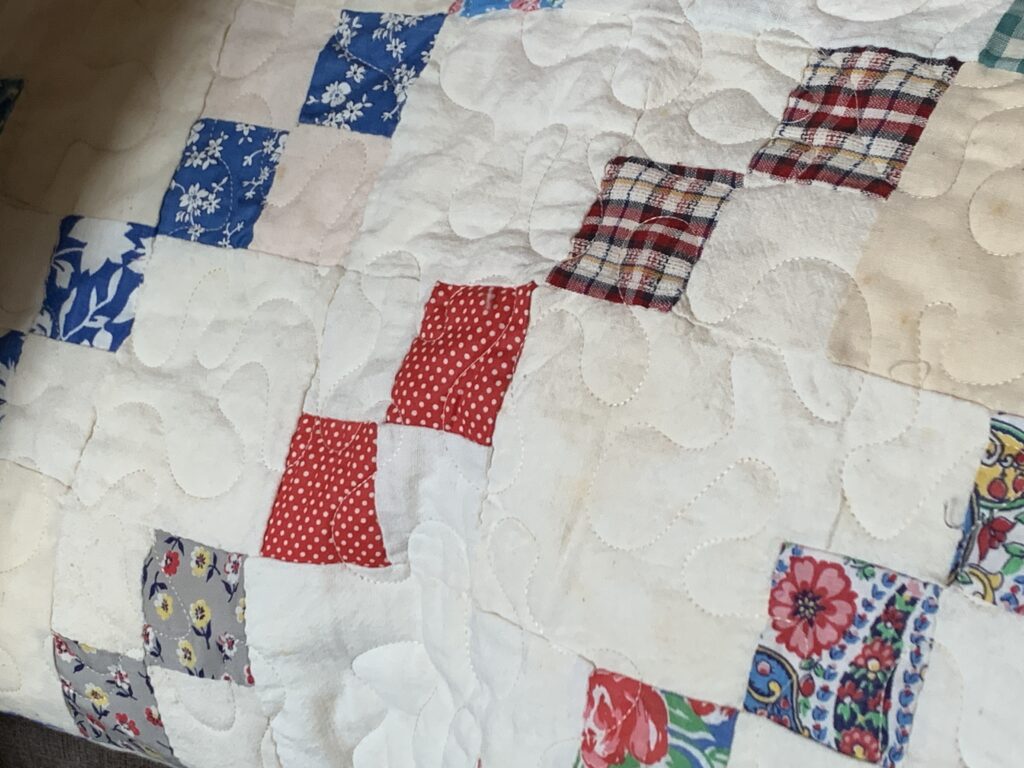 It's hard not to get addicted to quilting, once you start. I've started following lots of different fabric designers on social media and always look forward to seeing their new fabric lines. Sometimes, one of those fabric lines seems to jump out at me or a certain new pattern is calling to be made. I can't really explain it. Over the years, lots of hobbies have come and gone, but quilting is something I keep coming back to.
Happy quilting!