My New Favorite Food – Homemade Guacamole
If you know me well, you know I'm a very picky eater.  Over the past several years I've been trying new things, mainly things that I cook and have complete control over.  Guacamole is something I NEVER thought I would enjoy, but lately I've been addicted.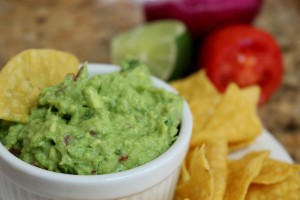 Smooshy green food has never sounded appealing to me, but when we were on vacation with another family, over Spring Break, they ordered some guacamole that looked very fresh.  I tried it – just a little, and I was surprised at how much I liked it!
Who knew?  Me. Liking smooshy green food.
After returning home, I decided to try to replicate that yummy guacamole that we had in Palm Springs.  I have made this once a week for the past 2 months and last time my daughter said, "Really? Again? I think you're addicted."
So, here it is… my recipe for homemade guacamole.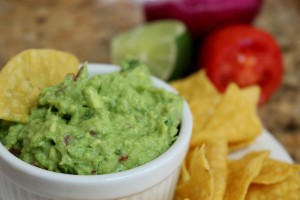 Ingredients:
1 Large avocado
1 TBSP chopped cilantro
1/2 TBSP chopped red onion
1 TBSP diced tomato
1 tsp freshly squeezed lime juice
salt to taste
Directions:
Peel and chop 1 large avocado.  Use a potato masher to smoosh (technical term) the avocado to desired consistency.  (I like mine a bit chunkier.)  Add cilantro, onion, tomato, lime juice, and salt.  Stir gently. Serve with tortilla chips.
Easy peasy!  Happy chopping!