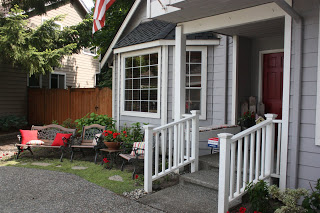 Porch Envy
You know that feeling you get when you go to someone's house and it's beautiful? You look around their house, just wishing your home was as neat, organized, sophisticated, or whatever the case may be. Then, you go home to your own house and look around. You start thinking your house is pathetic, filthy, and cluttered. In actuality, your house is probably great, but now you're looking at your home through dust-bunny-filled glasses.
This was my experience on Saturday morning. I went to pick my niece up from a sleepover. As I walked up to the front door, I fell in love with the pale blue steps and porch floor. There were rustic chairs and a cute, chippy, old bench as a coffee table. When the lady answered the door, I was just about to ask her if I could just have a cup of cocoa and stay for a while. I didn't know her, but I really wished I did so we could just sit for a spell on the front porch. (Doesn't "sit for a spell" just sound like something you'd do on a front porch?)
I had porch envy. I came home, and of course, I was looking at my front porch through cob web and yard debris colored glasses. I immediately started cleaning. First I got out the Oxy Clean and a scrub brush. The benches and rails all got a good scrubbin'. I swept off the porch and stairs, cleaned the pillows, weeded, and dead-headed all of the flowers. I even pulled the American flag down from the rafters in the garage and put that up on the house.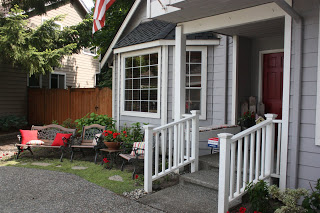 I still have porch envy, but at least I was inspired to clean up a little bit.